Best chainsaws come with the best quality and highly efficient chains!
When talking about the best quality chainsaws, the quality of the chain as well as its aggressiveness and the motor of the saw are the two most important things to consider. Most aggressive chainsaw chains work most efficiently.
Chainsaws are the most useful tools for any home improvement project as well as for outdoor cutting projects. But they could be extremely dangerous too when their chains become dull, non-functional, and old. So, while owning or working with a chainsaw, you must ensure it has a high-quality chain that would make your work easier and safe.
While searching for a worthy chain for your chainsaw, you must look for the sharpest chainsaw chains because fewer sharp chains simply won't get the job done nicely. So, choose wisely.
This article includes our top recommendations for the best chains for a chainsaw, the features they hold, along with what's good and bad about them. Continue reading further to find out the most suitable one for your chainsaw!
Top Pick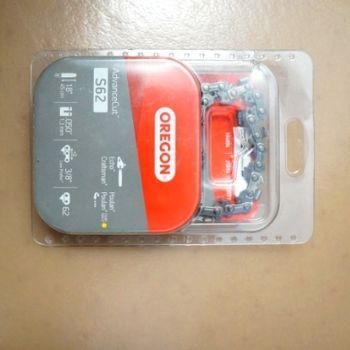 Our top pick for the best chainsaw chains is the Oregon S62 Advance Cut Chainsaw chain. The reasons we've picked it are its sharpness, efficient cutting, and its friendliness for most users and job types.
Chainsaw Chain Types
Depending upon the abilities of chainsaws to handle tasks, their chains are of three main types.
Full Chisel Chains – A full chisel chainsaw is usually used by professionals and experienced chainsaw users only. Since the teel are square-cornered, they are more suited to cut through hardwoods such as oak. Their teeth significantly increase the risk of kickback, so they pose an additional risk.
Semi-Chisel Chains – The teeth of semi-chisel chains are less efficient at cutting wood since the corners are rounded. There is a slight decrease in the risk of kickback in comparison with the full chisel chains, but the risk still exists.
These chains are commonly used for cutting softwoods like pine. In addition, their design makes them possible to use the chainsaw for a longer time, without requiring resharpening.
Low Profile Chains – Chainsaw chains with a low profile are recommended for beginners. With these chains, there is less chance of a chainsaw experiencing kickbacks while in use. It is for this reason that you are more likely to find these chains on chainsaws sold in retail stores.
Top 7 Picks for Best Chainsaw Chains
Out of many chainsaw chain options available on the market, we've shortlisted the seven best chainsaw chains that are highly durable, super sharp, and efficient in their working.
Read our reviews to pick out the chain best suitable for your chainsaw!
Oregon S62 AdvanceCut Chainsaw Chain
Husqvarna 531300439 18-Inch H30-72 (95VP) Pixel Saw Chain
Greenworks 8-Inch Replacement Pole Saw Chain
Stihl Chainsaw Chain
SUNGATOR 16-Inch Chainsaw Chain
AR-PRO 4 Pack 14-Inch Chainsaw Chain
Replacement Oregon chain for DEWALT DCCS690B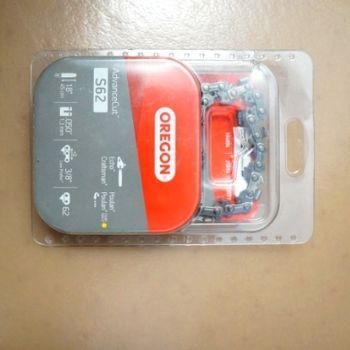 ABOUT THE CHAIN – The Oregon 18-inch cutting system loop chain features strong and ultra-sharp teeth, making it a great chainsaw chain. This chain can cut through most hardwoods and firewood without any problem.
There is little kickback with this chain, and it meets the kickback performance requirements. By distributing lubricants evenly to all chain links, Oregon's "LubriTec" technology reduces friction and heat generation. As a result, cutting performance is improved and chain life is increased.
There is a small space between the saw chain and the guide bar on the Oregon chainsaw that reduces vibration. When it cuts, this helps disperse the energy. Vibrations are reduced by up to 25% and it acts as a shock absorber.
Even though this is a single pack of replacement chains for your chainsaw, it has a very reasonable price tag. Due to its heat-treated and hard-chromed surface, it offers precision cutting despite its lower price tag.
Considering Oregon chainsaws are quite popular, this chain for chainsaws is designed with safety, performance, and sharpness in mind.
FEATURES
A high-quality chain with low-kickback standards, self-lubricating, certified, and tested. One of the best chains for hardwood cutting.
Even during multiple cutting sessions, the teeth remain sharp due to the chrome plating. As a result of the chrome plating, the surface becomes harder, and wear on the teeth is reduced. Therefore, the chain needs to be sharpened less often.
For precision cutting, the chain is designed for control cuts. Its pitch is 0.325 inches, its gauge is 0.063 inches, and it has 68 drive links.
PROS AND CONS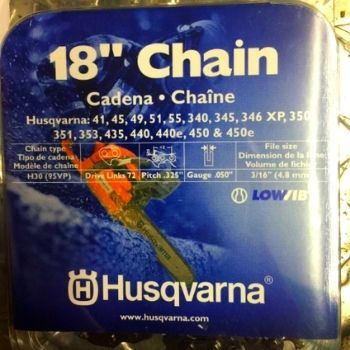 ABOUT THE CHAIN – Husky chainsaws have high-performance anti-kickback chains that are ideal for semi-professionals and homeowners alike. And same goes for this 18-inch Husqvarna chain. Despite the hardened surface on which the blade and chain are built, the high-grade steel provides a smooth cutting experience.
Furthermore, two replacement chains in one package make this Husqvarna chain an excellent option for many users. Due to its Husqvarna manufacturing, it is a bit pricey. However, the build quality of this product is great and therefore justifies the price tag.
Its blade being super sharp can cut through hard materials such as teak wood quite effectively, even after repeated use. Also, Several Husqvarna tools are compatible with the chain, and it is easy to install as well.
The chain pitch in this chain is 0.325 inches, and the chain gauge is 0.050 inches. This makes it possible to use it with many chainsaw models, can even be used with chainsaws not manufactured by Husqvarna.
We suggest that the chain should be soaked in gear oil overnight before installation to decrease its stiffness.
FEATURES
Despite its price point, this model is a great all-arounder for those looking for a machine that can handle heavy-duty tasks.
Using the appropriate gauge and pitch, it cuts through the grain leaving a large cut in comparison to most other models.
In addition to providing low kickback, this Husqvarna chain has also been designed to reduce user fatigue and increase safety during operation.
PROS AND CONS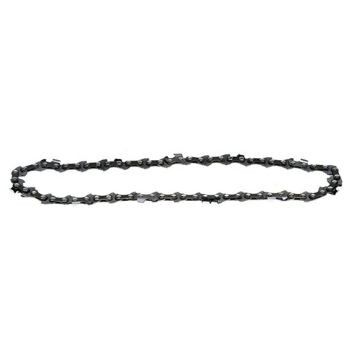 ABOUT THE CHAIN – There are many electric power tools made by Greenworks, including electric chainsaws and chain replacements as well. In our opinion, this 8-inch replacement chain is the best alternative chain to GreenWorks pole saws/chainsaws. Pole saw chains often come in this length. And so, it makes cutting medium-sized branches highly suitable.
This chainsaw chain from Greenworks has an 8-inch length, which makes it the shortest option among the chainsaw chains presented here.
Additionally, it provides a common chain pitch of 3/8 inches, making it a low-profile chain. Thus, this chain can be easily used with a wide range of 8-inch chainsaws from GreenWorks. GreenWorks is also known for its high-quality chainsaws and related accessories, so you can expect great quality here as well.
When you are buying a replacement chain, the fit is the most important factor to consider. Most chainsaws or pole saws with 8-inch chains can be fitted with this chain. It will be compatible with GreenWorks saw models 20672, 20302, 20192, 20352, and others, according to the manufacturer.
FEATURES
Sharpness is exceptional in this chain. Tree limbs and branches will be cut like butter with this chain. In addition, it offers the opportunity to cut logs that aren't too thick. Its exceptional sharpness is what enables all of these capabilities.
Cutting fast and accurately is one of the features of the chain. Having an 8-inch cutting chain, will make cutting and trimming those ugly garden branches much easier and quicker.
This pole saw bar will work on all saws with the GreenWorks pole saw bar 29062.
PROS AND CONS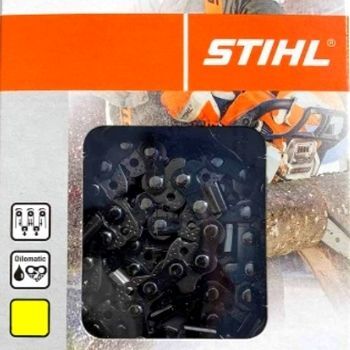 ABOUT THE CHAIN – Another major chainsaw company is Stihl, and if you own a chainsaw from their line, you must use their chains.
Designed to be tougher than the original factory chain that came with your Stihl, this 18-inch chain will get through larger cutting tasks in no time at all if you are experienced and can handle it.
The teeth hold an edge well, so you spend more time working in the field and less time sharpening them in the workshop.
However, this chain produces violent kickbacks is crucial since it is a more aggressive option that can be extremely dangerous. Due to these reasons, this chain is not suitable for beginners, and low kickback options would be more appropriate.
Also, this chain performs less well for smaller pruning jobs since it is meant for heavy-duty, bigger-cutting tasks. And so, with this type of chain, you also put yourself at risk of a kickback injury if you attempt to cut small branches.
FEATURES
This chain is 18 inches in length, making it an ideal length size for a chainsaw chain, and comes with 68 drive links, 0.63 gauge, and 0.325 pitch.
Certainly not the lowest kickback chain around, but this chain surely cuts through softwood much faster than its competitor chains.
Despite its aggressiveness, this chain does not bog down the motor. A semi-chisel type cutter makes it easier to maintain since it doesn't get dull as quickly as a full-chisel chain.
PROS AND CONS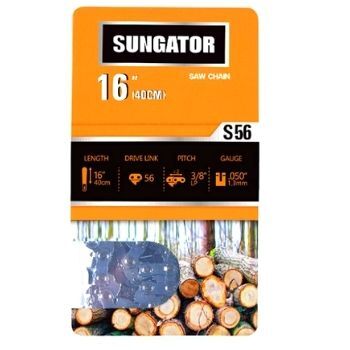 ABOUT THE CHAIN – The brand Sungator is less well known when it comes to chainsaws, but their chains have made their name for being high-quality durable chains, and this 16-inch is a winner in many ways.
With a blade that's durable and sharp, this 16-inch chainsaw chain provides a high level of performance. Since this chain offers less kickback than other chains, you can use it with more confidence without any higher risks of injuries.
As a result of the heat treatment and quenching of the rivets, the chains are made reliable, strong, and durable. Cutting trees and woods is made easier with the chain's high-grade steel.
Among these chainsaw chains, the SUNGATOR chain has the lowest price if you're only interested in a single pack. However, even then, it is an excellent choice for various chainsaw models.
The brand-neutral nature of its name implies its compatibility with several chainsaws. Various chainsaw models can be used with it, including Remington, Greenworks, Homelite, Echo, Poulan, and many more.
FEATURES
With a length of 16 inches, a gauge rating of 0.050 inches, and a chain pitch of 3/8 inches, this chainsaw replacement chain is an amazing low-profile chain option.
They are more dust-tolerant due to the semi-chisel design. As a result, the teeth can remain sharp for prolonged periods of time, and kickbacks are reduced for smoother cutting.
A hard chrome treatment is applied to the blade surface to provide improved wear resistance. Consequently, the blade remains sharp and doesn't require frequent sharpening, resulting in less downtime.
PROS AND CONS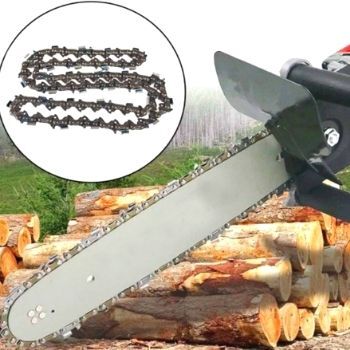 ABOUT THE CHAIN – These AR Pro chains are reliable when it comes to completing the job quickly and efficiently. Their precision cuts combined with low vibrations provide a more comfortable cutting experience.
This chain's wide compatibility is one of the best things about it. Chainsaws from Craftsman, Oregon, Husqvarna, Homelite, and Echo can be used with this chain due to its universal fit design.
For its material, Carbon steel is the material used for this chain that ensures precision cutting. Unlike other chains, this chain doesn't cause vibrations while cutting trees. It does not matter whether you are cutting hardwood or softwood, you will only feel low vibrations.
These AR carbon steel chains are chrome-plated and heat-treated to ensure they're both sharp and durable at the same time. The chain will produce smooth and clear cuts for a long time without losing its sharpness.
On top of all this, the chain is further strengthened by hardened rivets that can withstand heavy loads. Adjustments and repairs are also easy with the chain of AR-Pro.
FEATURES
Designed to fit both Standard and Universal Fittings. They can be used with any chainsaw requiring a 14-inch chain, including Oregon, Craftsman, Husqvarna, Echo, and Poulan.
For long-lasting durability, they are chrome-plated and heat-treated carbon steel chains.
There AR Pro chains possess strong hardened rivets. Hardened rivets, which remain strong even under heavy loads, are a great addition to the job.
PROS AND CONS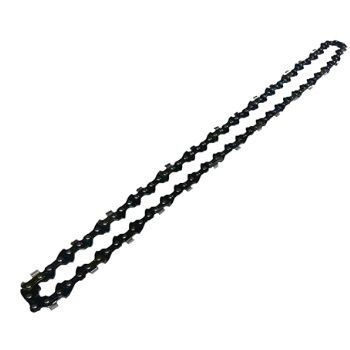 ABOUT THE CHAIN – In addition to Oregon chainsaws, Oregon also makes chainsaws from other manufacturers. It is mainly designed for use with electric chainsaws rather than gas-powered ones.
This is a 16-inch chain and the chain pitch on this chain is the same as that of many other gas-powered chainsaw chains, that is, 3/8 inches. Furthermore, this replacement chain has a gauge rating of 0.043 inches.
Due to the fact that it is made in Oregon, this chainsaw chain has a high build quality. Lubrication is kept in all important places along the chain by Lubrilink tie straps. In this way, your chain stays clean and sharp by providing proper lubrication.
Chainsaws with a power of up to 42cc can be used with this chainsaw. A hard chrome cutter chain provides smoother cuts for longer, as it is strengthened to last longer before wearing out.
With Oregon's design, the chain and guide bar are separated from each other, therefore reducing vibration transmitted through the chain and into the saw. As a result, kickback protection prevents you from being hurt when you are using saws.
According to its classification, it is a moderate-duty chain, which does not suit heavy-duty sawing.
FEATURES
In addition to having low kickbacks, the chain also meets the kickback specification. Through Oregon's lubrication technology, chain lubricants are distributed uniformly to all links, lowering friction and generating less heat.
A small space has been designed between the saw chain and guide bar of the Oregon chainsaw in order to reduce vibration. As a result, cutting energy can be better dispersed. Vibration is reduced by up to 25%, and the product also functions as a shock absorber.
Several brands of chainsaws with a 16-inch bar can be used with this Oregon chainsaw chain. Among them are Poulan, Ryobi, Homelite, Husqvarna, Echo, and a few others. Despite being heat-treated, this semi-chisel chain cuts smoothly and is more resistant to dirt, dust, and debris.
PROS AND CONS
Advance Cut Vs Control Cut Chain
The major difference between Advance Cut and Control Cut chains lies in the type of jobs they're most suitable for.
Advance Cut – Because of its solid performance and proven durability, Oregon's Advance Cut is a wise choice for "DIY" homeowners. This is perfect for users looking for more control, delivering smooth cuts every time.
Control Cut – On the other hand, control cut chains, as the name implies, offer more controlled cuts. You can accomplish jobs quickly and easily with Control Cut because it's low maintenance and stays sharp longer.
How Long Do Chainsaw Chains Last?
A chainsaw chain's lifetime depends on its use and maintenance and does not have a set limit. If taken care of properly, the chain should last up to 5-6 years. However, if properly maintained and used correctly, the chainsaw chains can last even a lot longer than that as well.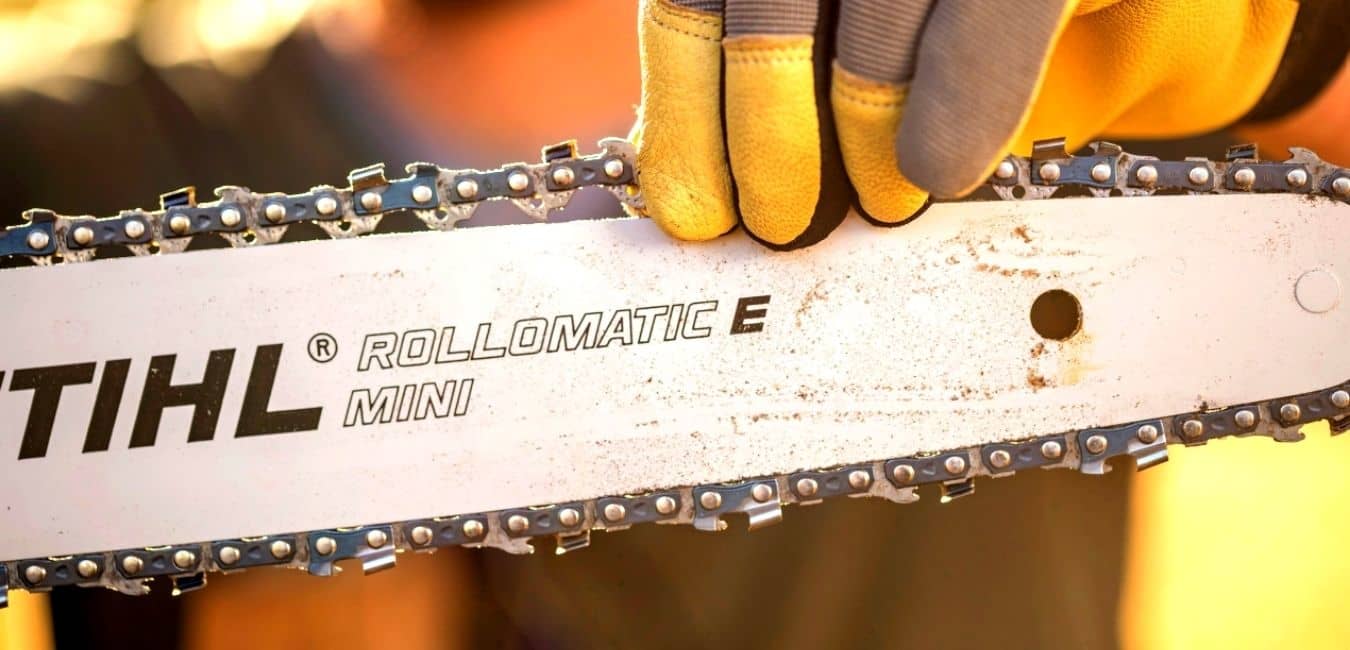 How Long Should a Chainsaw Chain Last?
If taken care of properly, the chain should last up to 5-6 years.
How to Fit a Chainsaw Chain?
It's very important to correctly fit a chain when you have a new one to be fitted. The tensioner should first be screwed into the saw bar, and then the drive links that is, the hooked teeth of the chain need to be threaded up onto it.
Make a small adjustment to the tensioning screw. If your chain stretches, you can adjust it by tightening the screw.
Then loop the chain back over the sprocket.
Start by threading the drive links into the bar, then move around to the nose and then down to the bottom.
Pull the bar nose slightly to fit correctly at the adjusting pin, to put tension into the chain, and then replace the side cover.
Next, screw on the nuts until they are secured, but make sure they are not too tight.
Use the adjusting screw on the saw to tighten the chain.
Now to test the tension, pull the chainsaw chain a little from the bar, but you shouldn't be able to remove it.
Remember, it is always a good idea to tighten the chain before using it if it appears to be hanging from the saw.
Best Way to Clean Chainsaw Chain
We recommend using a drainpipe cleaner (from any hardware store) because it works wonders to get the chainsaw chains clean. Put the chain/chains in a bucket with water and dump a suitable amount of the cleaner onto it. Let the chain soak in for about 15 to 20 minutes or maybe a bit longer than that, and you'll notice water getting really dirty after that.
Now carefully take the chain out, put it on the ground and spray off the hose to get all the chemicals off. Then take a paper towel and wipe it off by pulling it through the paper towel. You'll see the remaining dirt and dust coming off the paper towel.
NOTE: Make sure you use gloves for cleaning the chains and keep your face and hands away from the solution you soaked the chain in.
How to Pick a Chainsaw Chain
To select a suitable chain for your chainsaw, what you need to consider is the bar length, chain size, gauge, and pitch of your chainsaw's original chain, and choose a new one according to these measurements. Because, if a chainsaw doesn't fit perfectly, it won't do the job.
Best Chainsaw Chains – FAQs
What chainsaw chain do professionals use?
The professionals and experienced chainsaw users use full chisel chainsaw chains as they sharply cut through the hardwoods with their square-cornered teeth.
Are Stihl chains better than Oregon?
Both the Stihl and Oregon chains are the top manufactured chains for the chainsaws. Stihl chains hold their edge a bit longer than Oregon chains. It is barely noticeable during regular maintenance, but obviously after prolonged use. So, most professionals would prefer Stihl over Oregon. But, for common users, Oregon the mostly the top choice.
What type of chainsaw chain cuts the fastest?
Square-cornered Full Chisel chain teeth are inherently fast cutting, and they're known as the fastest blade shape. Additionally, full chisel chains have a greater number of teeth than other chains.
Summing It Up
There is a limit to how many times you can sharpen your chainsaw chain with a chainsaw sharpener. And when you reach that limit, you would have to go for a replaced chain. And for that, you can choose the best suitable chain out of the few best ones we've covered in this article. You can use these to easily choose the perfect replacement chain for your chainsaw.