The Makita XCU04 electric chainsaw may be the ideal choice for homeowners looking to replace their outdated chainsaws for cutting firewood and maintaining their landscaping. It is the natural choice for customers already using the Makita platform and runs on two LXT 18V batteries. It should also be among your top choices if you're a novice DIYer without even an electric tool collection given Makita's expanding array of LXT- machines and its high construction standards.
The XCU04 is more expensive than many rival mcompatibleodels in its pricing category but far less expensive than equivalent Milwaukee devices. However, Makita's quality maintains the high standard set by premium products, making this chainsaw one of the best deals available. Let's get into greater depth.
Let's examine more specifically to determine if the XCU04 is the best option for you.
Salient Features
To get directly to the point, below are some technical features that the Makita XCU04PT offers:
Ergonomic Design
A small, ergonomic back handle will make everything for you very comfortable and convenient. So long as you don't truly tire your arms out, anyone can enjoy cutting wood branches or other firewood resources all day long.
To ensure peak performance without difficulty, the grip is excellent, the handle is adequately padded, and the speed trigger is positioned ergonomically.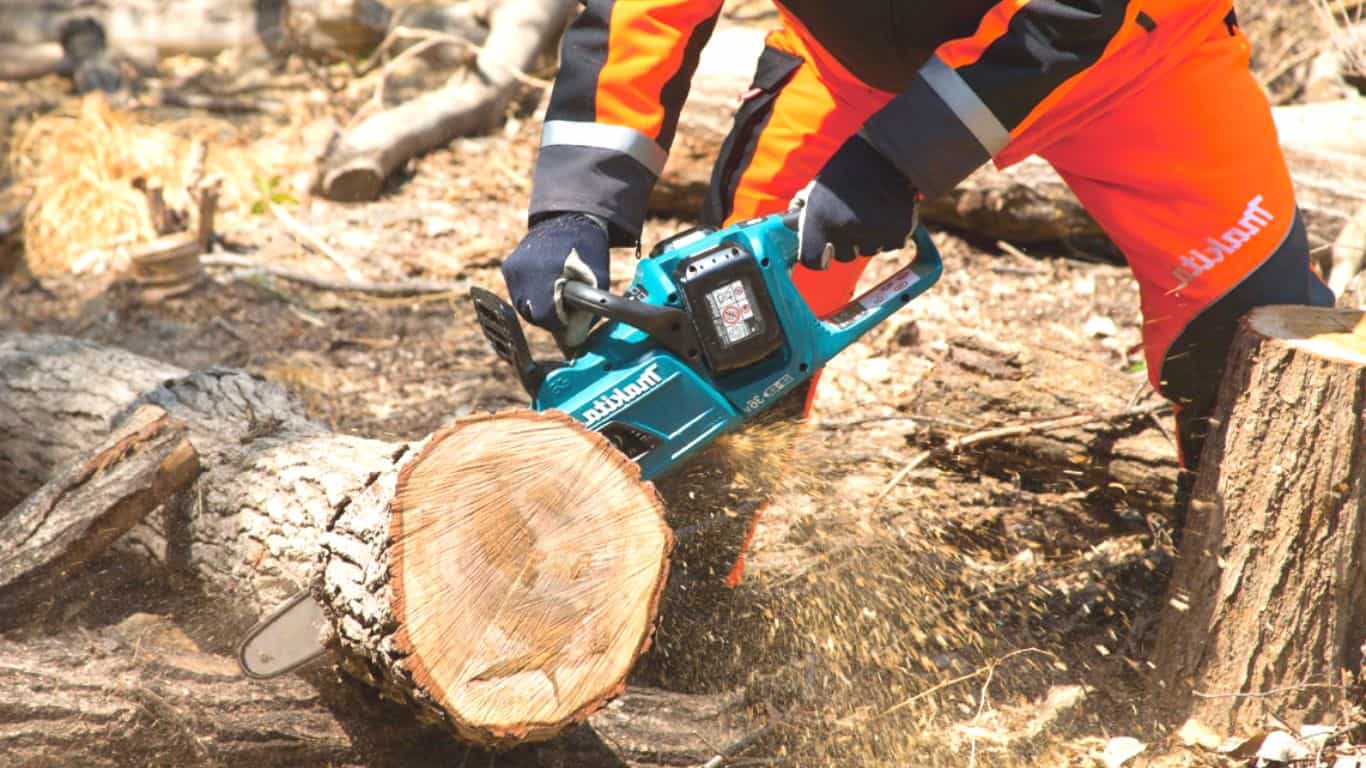 Chain Adjustment Without Tools
If the chain slacks off in the middle of the cutting process, you may quickly tighten it. There is a unique toolless chain management option on the Makita 36v brushless chainsaw. Simply rotate it in the direction you prefer—clockwise or counterclockwise—and enjoy cutting without
You should use it carefully and cautiously, though, is what I would advise. That's because the plastic made this maintenance tool didn't seem particularly sturdy to me.
Power Dynamics
There is no denying the 36v battery-operated chainsaw's considerable power. The chainsaw should easily be able to match the power of a Poulan Pro 18″ chainsaw thanks to the simultaneous power of two batteries.
In addition, the saw is equipped with the newest brushless rotary motor. Over time, it provides increased efficiency and operates on a direct-drive system.
Therefore, using a chainsaw to cut shrubs, limbs, medium-sized wood logs, and large trees without any problems is possible.
Speed Trigger with Good Response
The speed trigger with varied responses performs flawlessly and is really good. The chainsaw will begin to rotate steadily if you carefully press it. Depending on the task you are currently doing, you can easily increase or reduce the speed.
Not to mention, the Makita electric chainsaw has a speed range of 0 to 3,940 FPM, which is comparable to the Milwaukee M18s. Recall that Makita placed a high priority on making their chainsaw resistant to inclement weather.
It has made a specific Extreme Protection Technology in XCU04PT available for this purpose. It makes it possible for the chainsaw to steer clear of any and all dust, dirt, water splashes, and rain.
Because of the sturdy stainless steel alloy construction, the motor, bar, and chain are safeguarded and sufficiently safe. So, using the chainsaw to chop through tough wood logs or firewood would give you a long lifespan.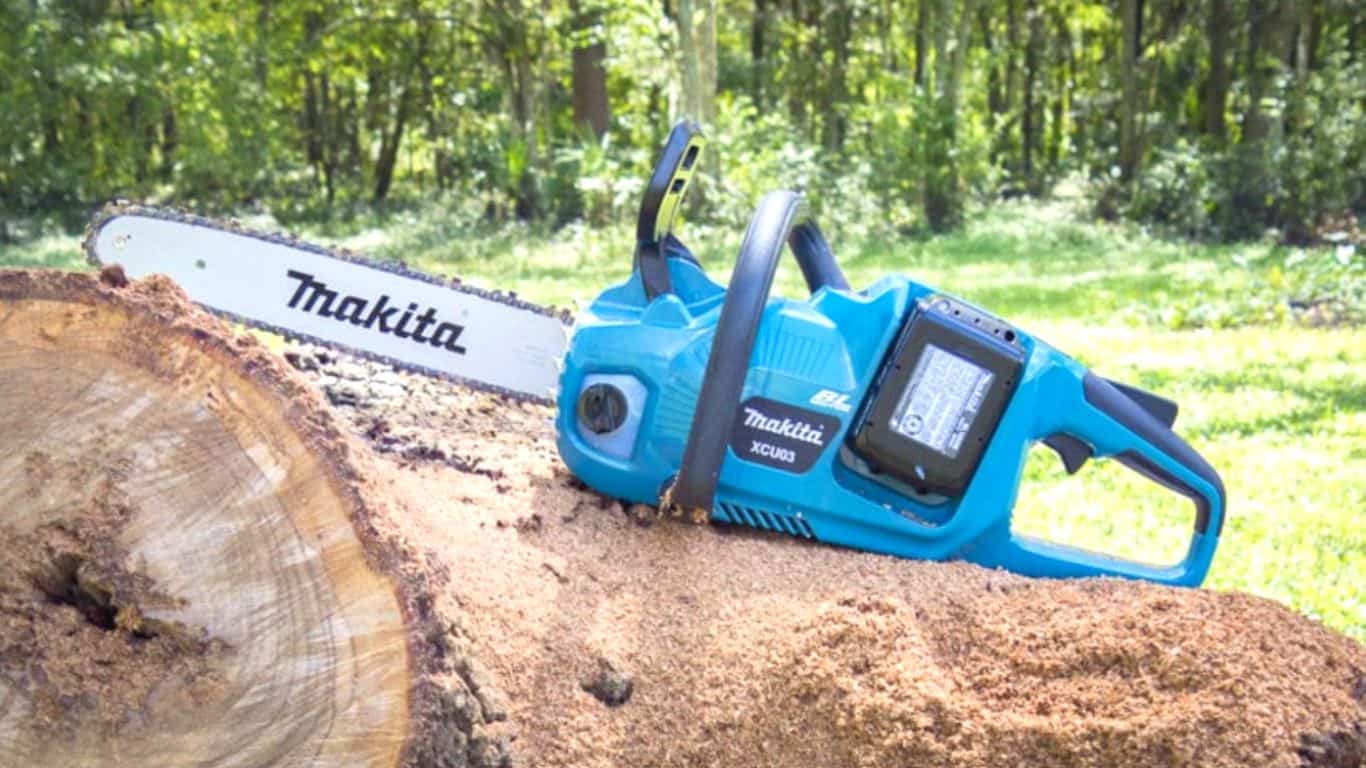 Information on batteries and the battery charging kit includes
The batteries that are included with the Makita 36v chainsaw are my last, but certainly not least, topic. Right off the bat, you'll get 4 batteries in the package, along with a full battery kit.
The chainsaw will, however, have a total of 36V of power because each battery has an 18V voltage. It can charge two batteries at once, speaking of the battery kit. It can prevent problems, which is good.
So, if you own a Makita 36V chainsaw, I strongly advise you to use the battery kit that came with the chainsaw to charge its batteries.
Convenience
The XCU04 is perfectly designed for comfort and ergonomics. The brake may be conveniently engaged by a hand on the handle with a quick wrist roll, and the rubber grip is comfortable to hold and absorbs vibration. A saw-ready grip on the handle allows you to press the power button with your thumb, even though it may be an inconvenient extra step.
The XCU04 is more practical than other versions thanks to two special features, one of which is trigger safety. The handle contains a lever instead of a button, which when pressed releases the trigger. It almost seems automatic while using a chainsaw because of the way your natural grip compels your palm to squeeze the release.
Faster than any other chainsaw, the XCU04 can be used, put down, picked up after 30 seconds, and you can resume chopping.
The chain tensioner is the second obvious distinction between the XCU04 and other electric chainsaws. The blade may be adjusted without the need for a special instrument. With a built-in flip-out tool, you can expand or contract the bar to achieve the ideal tension. It doesn't get any easier to adjust your chain than the Makita, despite the fact that many other brands tout the wrench storage feature of their tools as a helpful feature.
Why Buy a Makita Battery Chainsaw?
One thing is clear from the Makita 36v Chainsaw Review moving it from one location to another won't be a problem.
Additionally, you can chop firewood materials with ease thanks to the incredible power that comes with pairing two lithium-ion batteries.
Other factors to consider when choosing this chainsaw include its strong structure and low-maintenance operational interface.
Best Cordless Chainsaw
We didn't want to forgo the power we get from our commercial saws while choosing the finest battery chainsaw for domestic uses. The 60V class tends to offer the best weight and performance ratio despite the wide range of alternatives available.
The EGO CS1800 is ranked first when switching to an 18-inch bar. With batteries available up to 10.0Ah, it provides good power and lots of runtimes (a 5.0Ah pack comes in the kit).
In addition to its performance, EGO's auto-tensioning mechanism makes it incredibly simple to reach the bar and chain and alter the chain tension without the need for additional tools. Even an LED is available to aid in storm cleanup in the event that the power is out.
Here are some of the best Chainsaw brands, have a look.
Electric chain saw Issues
There are more than a dozen parts in an electric chainsaw, many of which move. An electric chainsaw's essential mechanical and electrical components may malfunction or eventually wear out. There may be several contributing factors if your electric chainsaw isn't working properly.
The top 5 concerns with electric chainsaws are listed below:
Electric Chainsaw isn't starting

The electric chainsaw stops working.

It isn't cutting correctly.

The chainsaw is not lubricating the link.

A grinding sound is coming from it.
No matter whether your electric chainsaw is corded or battery-powered, use caution when inspecting it to find the potential problems that are causing an obvious problem. This article goes into detail about the top 5 electric chainsaw problems and how to fix them.
Electric Chainsaw isn't starting
There are two possibilities that why your electric chainsaw isn't starting:
Electric component failure

Electricity issue
Properly inspect both these cases and hopefully, you will find the solution.
Electric Chainsaw stops working
The following factors can cause an electric chainsaw to stall out while cutting:
The battery is undercharged.

Variable power source

The appliance is jammed.

The chain brake is engaged.

issues with lubrication

motor issues

Other elements
The battery, not just the voltage or milliamp-hour but also the discharge capacity, is what powers cordless electric chainsaws. As the battery runs out, the discharge rate decreases. The low charge should, however, reduce the effectiveness of the electric chainsaw rather than entirely shut it off.
If there are significant fluctuations in the power supply, corded electric chainsaws may stop operating. Extension cords are frequently a concern. For outdoor extension cords or cables, the length and gauge size is typically recommended by the manufacturer. Make the appropriate extension cord selection.
In a variety of situations, electric chainsaws can become clogged. Various situations might cause electric chainsaws to clog. The unit frequently accumulates sawdust. Additionally, charming foreign objects could make their way through the system. The unit is severely clogged as you can see in the video up above because it was used on cloth. Unclog the device by taking it apart.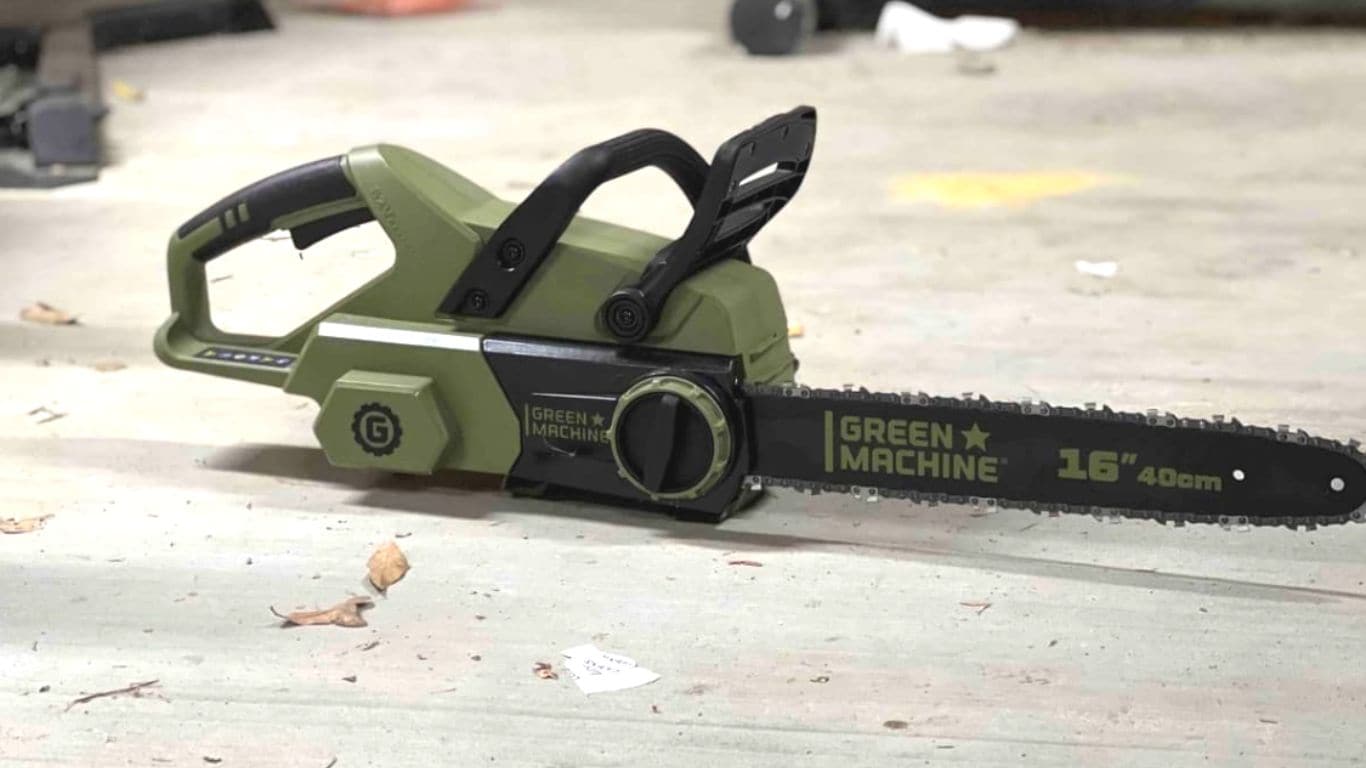 Make sure the electric chainsaw brake is not activated by accident. Reverse it, then turn the machine on to see whether the chainsaw suddenly stops cutting again. A lubrication problem may exist in an electric chainsaw that is not clogged but is having neither power nor battery issues.
Bar & chain oil is used to lubricate both corded and cordless electric chainsaws. The reservoir and suggested dosage of bar and chain oil can be found in the owner's manual. Avoid overfilling the reservoir.
Electric Chainsaw isn't cutting properly
The following are typical causes of an electric chainsaw not cutting wood well:
dull or blunt chain for cutting

tight or loose cutting chain

incorrectly positioned cutting chain

broken or misaligned chainsaw bar

damaged, out of alignment, or worn sprocket

Unable to lubricate due to blocked oil hole

inadequate pressure or improper handling
Look for these things and you will find the answer.
The chainsaw is not lubricating the link
The following are typical causes of your electric chain not lubricating the chain:
Insufficient bar and chain oil

Obstructed lubrication hole

A compressor system malfunction

A bent or misaligned bar
Make sure there is enough bar & chain oil in the lubricant reservoir. Follow the manufacturer's advice while refilling. Examine the oiler hole because it can be blocked. To perform a visual inspection, remove the unit's housing. To clean the spot, you might need to remove the chain and bar.
A Grinding Sound is Coming from it
Check to see if your electric chainsaw only grinds when you use it on a certain kind of wood or if it grinds occasionally. Additionally, you must identify the cause of the strange noises, which may be inside the side cover or the motor housing.
A broken component or extraneous items interfering may be the cause of internal grinding noise. Additionally, a broken bar or worn-out chain could be making strange noises. The usual culprits include a broken sprocket, a stuck motor, and blocked internal parts.
Remove the unit's side cover to inspect the driving gear or sprocket, bar, chain, and other visible elements. The side cover above the bar and chain on toolless electric chainsaws is not fastened with bolts. But in order to perform a more thorough inspection, you must unscrew the motor housing.
Makita 36v Chainsaw Review – FAQs
What is the best electric battery-operated chainsaw?
Ego Power+ 56-Volt Cordless Chainsaw is the best electric-operated Chainsaw. It is durable, strong, and sturdy and best for cutting trees and other wooden stuff.
Are Makita chainsaws any good?
Yes, Makita Chainsaws are excellent for cutting trees and other household stuff. You can rely on o these chainsaws for your needs.
Who makes Makita chainsaws?
Makita Engineering Germany GmbH (Dolmar) is a company that manufactures Makita Chaisaw. This company is well known for making durable and long-lasting chainsaws.
Is a battery chainsaw worth it?
Yes, battery-operated chainsaws are worth it. This type of chainsaw is very convenient but it can only be used to do household small tasks.
Conclusion
In the final section that concludes the article, I hope that you now have a clear mental image of the Makita cordless chainsaw and its various variants with various battery voltages, i.e., 18V and 36V. Overall, Makita cordless chainsaws are lightweight, easy to maneuver, and extremely robust and dependable. Although some models don't offer enough undercutting, they are still the greatest buy. We anticipate your purchase and hope you enjoy utilizing this product.