Poulan Pro PR5020 – The best affordable chainsaw you'll find on the list of top chainsaws on the market!
Choosing the 'perfect' chainsaw for yourself can be much confusion when you have so many great options available. But it doesn't really have to be a difficult choice!
When choosing a chainsaw that would best suit your needs and your type of job, always think of how often you'll have to use it, depending upon what your job is.
If you're somebody who doesn't need a chainsaw on daily basis, you don't need to move to a super high-end and premium chainsaw. Poulan Pro PR5020 would be a perfect choice for you!
In case you're wondering where to buy a Poulan chainsaw, here's the answer. You'll find Poulan chainsaws in Hardware stores. We recommend purchasing it from a well-reputed and well-known hardware store. So that, you won't be given a low-quality chainsaw. Also, you'll be given the most suitable suggestions by the sellers, regarding the kind of chainsaw you want.
This Poulan Pro PR5020 is not only the very budget-suitable type of chainsaw but is also one of the most popular and high-efficiency chainsaws among the other top chainsaws. You may check Poulan Pro PR5020's Manual here.
This article contains all the information about the great Poulan Pro PR5020, including all its features, specifications, common uses, problems, and some alternate options to this chainsaw too. (Just in case you're looking for some). Continue reading for a detailed review!
How Good is a Poulan Pro PR5020?
Poulan Pro PR5020 is one of the top popular and affordable chainsaws on the market. It is a pretty lightweight chainsaw that makes its handling and usage easier. Furthermore, it's easy to start and operate, with high engine power, high working efficiency, and comparatively less consumption of fuel.
Why Buy the Poulan Pro PR5020?
Poulan Pro PR5020 is simply for anyone who's looking for a not-an-extremely-high-end chainsaw for not-so-heavy-duty kind of jobs. It has a 20-inch bar and a 50 CC engine which makes it a super powerful chainsaw.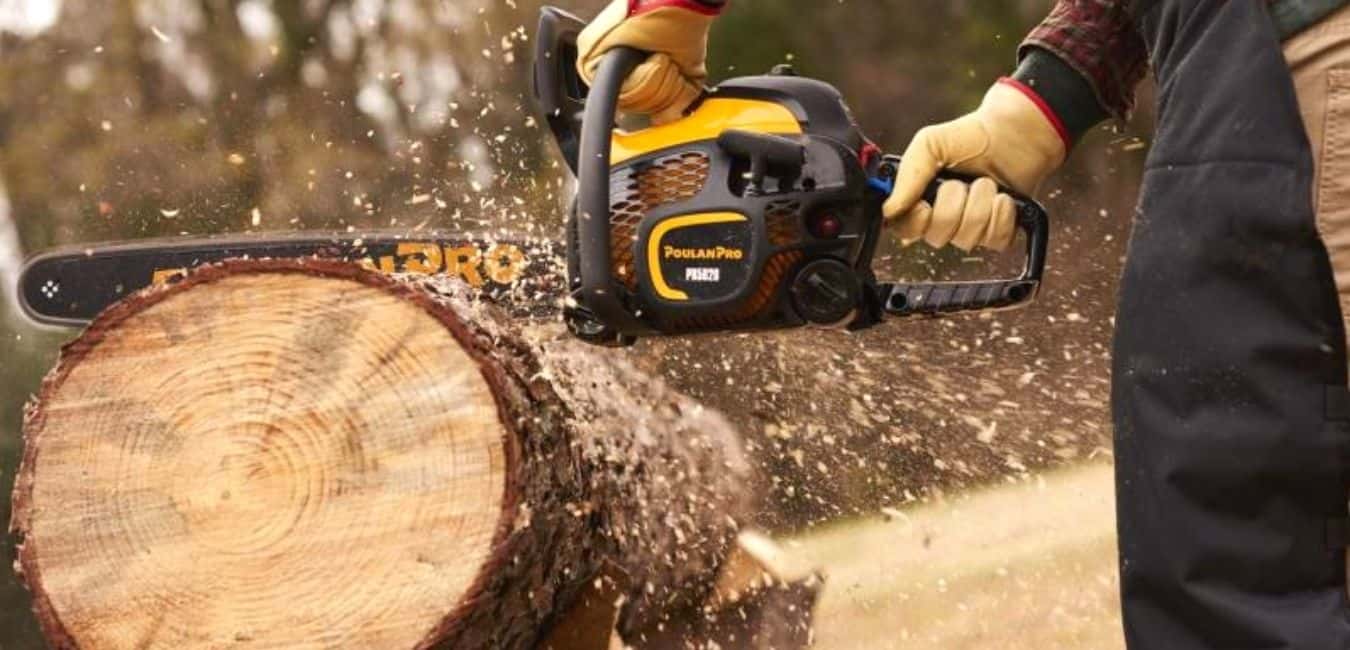 You'll be surprised to know that Poulan, in fact, is owned by Husqvarna which is the top-most popular chainsaws brand around the world. But Poulan chainsaws are kept slightly on the cheaper side, in order to make the best chainsaws available for people with all budget ranges.
So, if you're somebody who can't afford Husqvarna chainsaws, or necessarily doesn't need such high-end chainsaws because you're not a professional logger, you can definitely go for Poulan Pro PR5020. This would be the best suitable chainsaw for you!
Who Makes Poulan Chainsaws?
Poulan is owned by Husqvarna. So, the Poulan chainsaws are also manufactured by Husqvarna and both the brands often share the same technologies as well.
Poulan Pro PR5020 Review
With a 50 CC 2-cycle engine, Poulan pro-PR5020 is an exceptionally powerful chainsaw and is easy to operate as well. Its lightweight body and powerful engine promise high efficiency, low emissions, and low fuel consumption as well.
Further, we'll be discussing the amazing features and specs of the Poulan Pro PR5020.
Specifications
| | |
| --- | --- |
| Manufacturer | Poulan Pro |
| Dimensions | 12 inches x 16 inches x 11.8 inches |
| Weight | 17 Pounds |
| Bar Size | 20-inch |
| Saw Type | Gas-powered |
| Chain | Automatic chain oiler |
Chain Tension System
Regular maintenance of your saw includes the cleaning of the air filter and accessing the spark plug to keep it running smoothly. This convenient design eliminates the need to remove a cover in order to gain access and keeps you working without interruption.
You can quickly adjust your saw, if necessary, by using the chain tensioner, which is located conveniently on your saw. When working long hours, or after cutting heavier material, your chain should be snug, but still be capable of pulling slightly off the bar.
However, in time, the chain will relax, and you will need to adjust the tension to keep it operating correctly and safely.
Air Filter
In order to prevent sawdust from reaching the air filter, the chainsaw is equipped with an air intake system. The chainsaw will run smoothly if the air filter is clean. An air filter that is dust-free and clean should therefore be at the top of your priority list.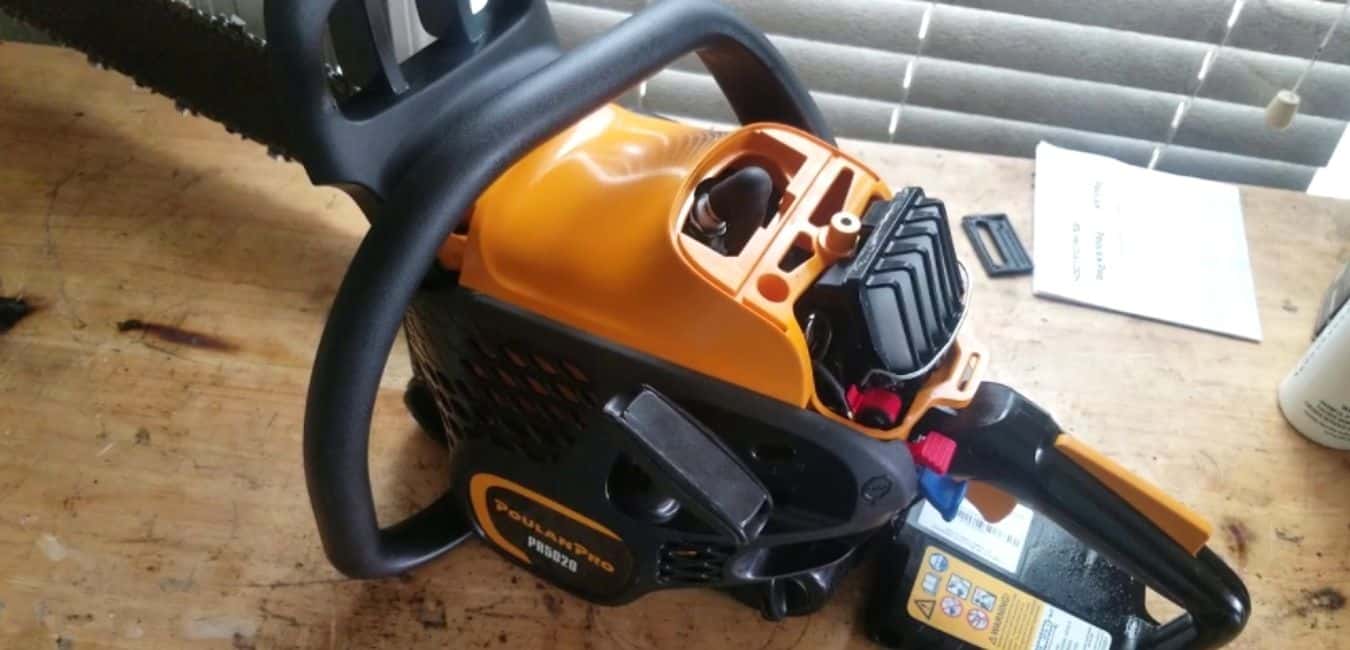 By keeping larger debris out of your machine, you prevent it from getting damaged. In fact, it stops larger debris from reaching the filter in the first place. Occasionally, dust and debris do evade the filtration fan's gaze, but most of them are forced to return.
Automatic Oiler
Poulan Pro PR5020 also includes the automatic chain oiler, a feature that is becoming increasingly popular. You won't have to worry about the chain as long as it gets enough oil.
The PR5020 also has the feature of being able to adjust the flow. The old models also have a chain oiler that is automatic, but it has a fixed flow rate. This PR5020 model, however, allows you to change the flow in accordance with the cutting task at hand without experiencing any problems!
Carburetor
The carburetor on this chainsaw is another amazing feature. With its EPA-friendly carburetor, this 2-cycle saw limits the amount of pollution that is generated by the engine. Additionally, it is CARB-compliant, as well as EPA-compliant.
Moreover, a powerful engine can mow through thick timber in a reasonable amount of time. And the best thing about this feature – In contrast to older chainsaws that are not compliant, it consumes about 20% less fuel than it does.
Cutting Efficiency
Poulan Pro PR5020 is an inexpensive chainsaw with excellent cutting performance. Logs up to 20 inches can be cut without any issue, and it cuts fairly quickly. Although it would be nice to have a little bit more torque, it has enough power to handle 20-inch bars just fine.
Torque is significantly higher than comparable Husqvarna models, which makes sense considering their smaller guide bars. Don't force the saw to cut into the wood, just let it do its job.
Chain speed isn't the only factor that determines cutting performance but it's one of them. And in terms of speed, Poulan Pro PR5020 moves its chain at 91.2 feet per second without load and at max RPM. It is rare for a chainsaw to move its chain that fasts, even in the more expensive models.
OxyPower Engine
Gas-powered OxyPower Engines are built to compete with electric-powered saws, which are more environmentally friendly. With this technology, fuel consumption is reduced, along with a reduction of emissions while providing incredible power.
There are 70% fewer emissions and 20% less fuel used for the same run time compared with comparable gas saws.
Lightweight
Poulan Pro PR5020 isn't much of a heavy chainsaw and that's another plus point. It weighs around 17 pounds which is perfect for comfortably handling a saw even if you have to work for long hours continuously.
LowVib System
You will experience more vibration with a larger engine, resulting in fatigue over time. But with Poulan PRO, you'll be able to work for longer periods of time making smooth cuts and causing less stress on your body with its technologically advanced anti-vibration system.
Its ergonomic design makes it easy for any size of hand to reach the controls and reduces fatigue.
Smart Start
When chainsaws are started, it is not unusual for them to hit bumps. If you try to start it yourself, you may tire out before you can even begin working.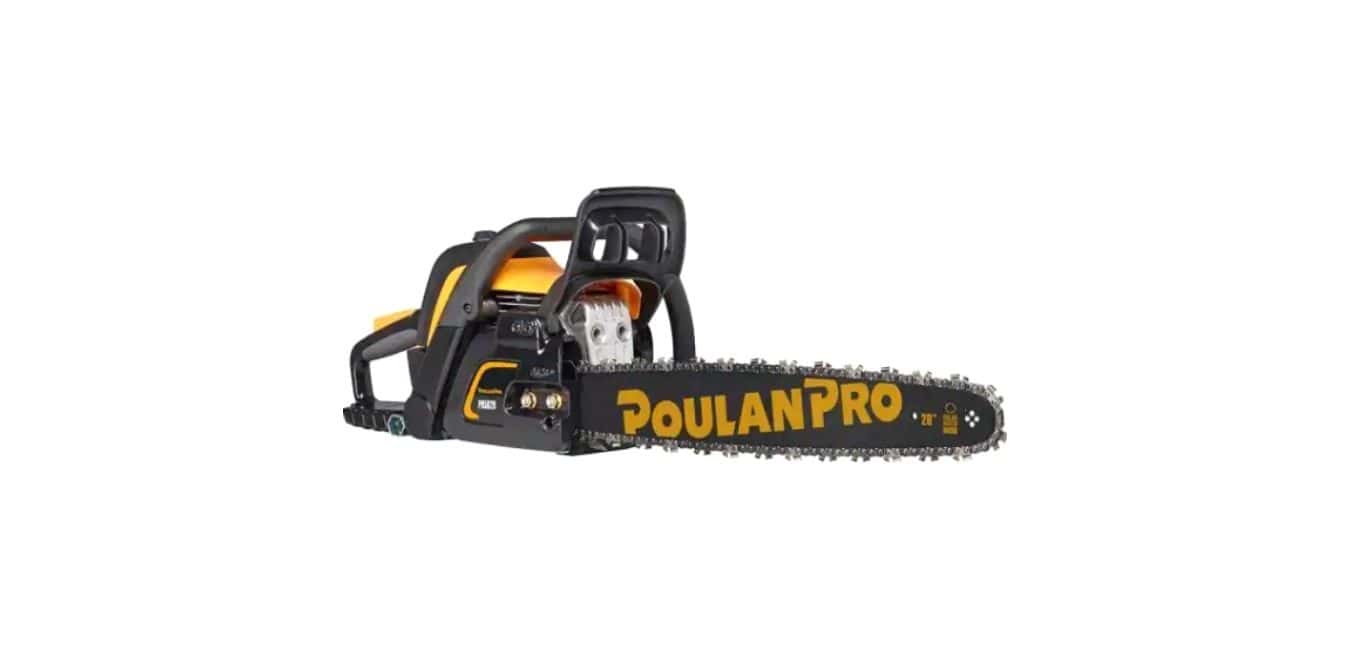 In comparison to earlier models, the Poulan Pro PR5020's effortless pull starting system reduces the pull force by 30%, helping your saw start on the first pull. Unlike some gas-powered saws, this one is self-adjusting, so there is no extra strain on your body.
Additionally, it works with a fuel primer to provide gas to the carburetor, making it easier to start the engine. This can make engine starts easier for people who have difficulty pulling the starter.
User Experience
Overall, this saw has received high ratings from consumers. Combined with its anti-vibration technology, this lightweight saw is one of the most comfortable to use. Moreover, it is easily maneuverable and cuts very smoothly and effortlessly. Additionally, it has been noted that it starts very easily and is very reliable.
Most of the complaints are related to the flimsy bar and chain that comes with it and its incompatibility with the power of the engine. Nevertheless, the saw is highly compatible with more popular brand bars, so you can easily select the brand that best suits your needs.
Several comments have been made regarding idle speed, both in support of and in need of adjustment. It is possible that the carburetor needs adjusting if the elevation, or shipping, has caused an offset.
Price
This Poulan Pro PR5020 saw would cost you somewhat around $250. However, prices may vary from region to region.
Pros & Cons
Alternates for Poulan Pro PR5020
In case you're looking for some alternate options to the Poulan Pro PR5020, here are some of our top picks for you.
DeWalt 20V Chainsaw
Husqvarna 455 Rancher
Greenworks 40V Chainsaw
Husqvarna 120 Mark ii
1. DeWalt 20V Chainsaw
DeWalt 20V chainsaw is capable of handling large construction works easily. It is a lightweight chainsaw, has a 12-inch chain, and proves to be a great option for homeowners and gardeners as well. This chainsaw isn't much suitable for professional, heavy-duty works but is definitely a game-changer for residential uses.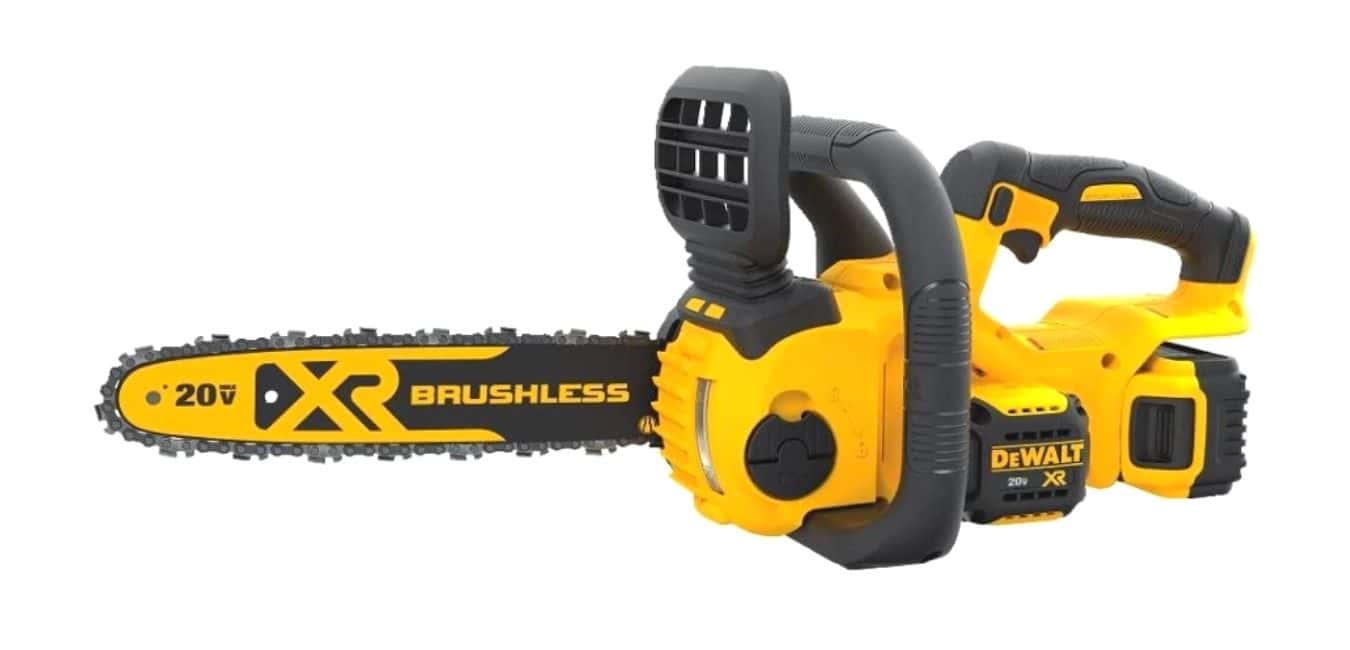 It works great for medium-sized branches, somewhere between 4 to 8 inches in diameter. Also, it's super easy to handle while working with it. You can even make use of your only one hand if needed. Its brushless motor ensures there is less friction produced, and hence, less heat produced.
So, if you're somebody looking for a lightweight, not-so-expensive saw that does a great job for residential works, this DeWalt 20V chainsaw is for you!
2. Husqvarna 455 Rancher
Husqvarna 455 works best for all kinds of residential works. But when we say for residential works, it does not mean it's not for the professionals! In fact, it's highly recommended for professional work as well because of its super-powerful engine and working efficiency.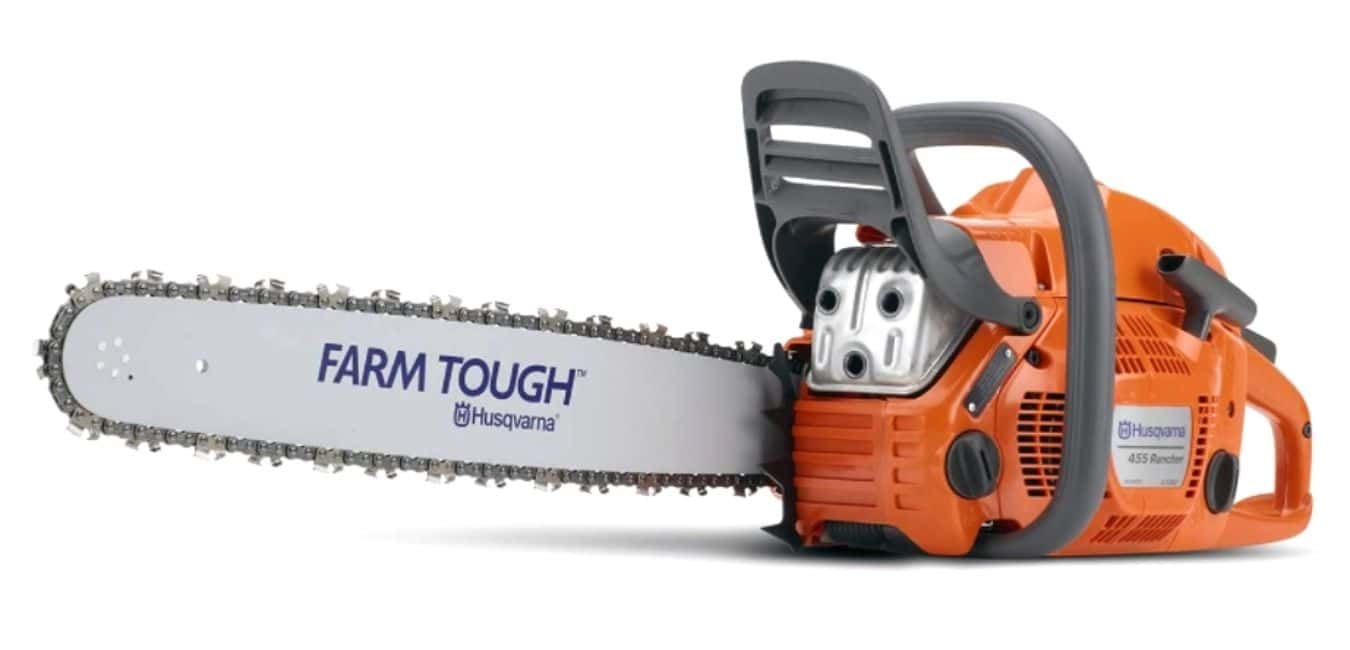 It weighs a bit less than 13 pounds and possesses 3.49 horsepower. Throughout the world, Husqvarna chainsaws are known to be the best ones so far, after the Stihl saws. Furthermore, Husqvarna 455 rancher handles larger trees pretty well and is fuel-efficient as well.
3. Greenworks 40V Chainsaw
Greenworks 40V is a cordless chainsaw but is an exception. It has a 40 Volts 4.0 AH Battery and cuts the whole cord of wood in one charge! It's a quick response saw which quickly ceases the engine right at the moment you release the trigger. Also, its brushless motor makes it an amazing tool for in-the-air tasks.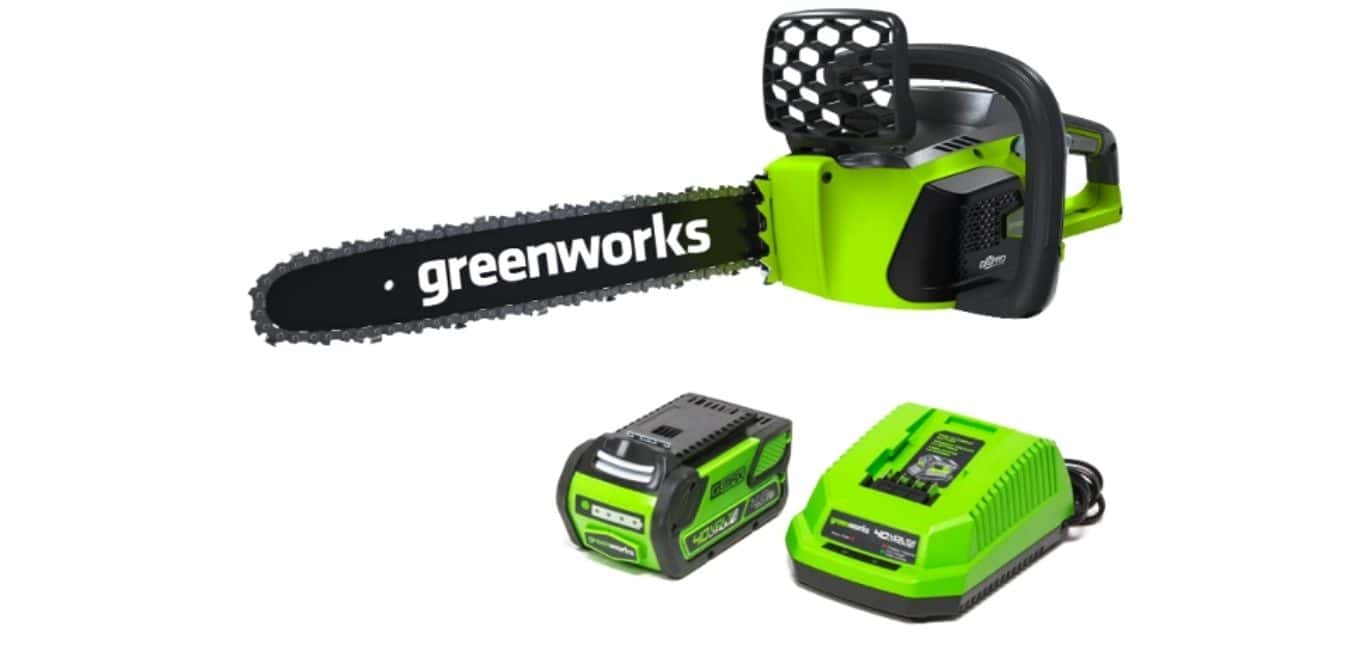 This chainsaw uses a 16-inch-long bar and has a pretty good run-time for practical purposes, perfect for yards up to 0.33 acres of land. It is easy to start as well as operate, as compared to the gas-powered saws, and also comes with a 3-year battery warranty.
4. Husqvarna 120 Mark ii
This one's another masterpiece by Husqvarna. For the homeowners who mostly carry out not-so-heavy duty work, this Husqvarna 120 Mark ii is the best preference. For 2 x 4 projects, this is surely the best gas-powered chainsaw you'll find. Limbing and pruning fallen trees, it's great for homeowners as well as professionals.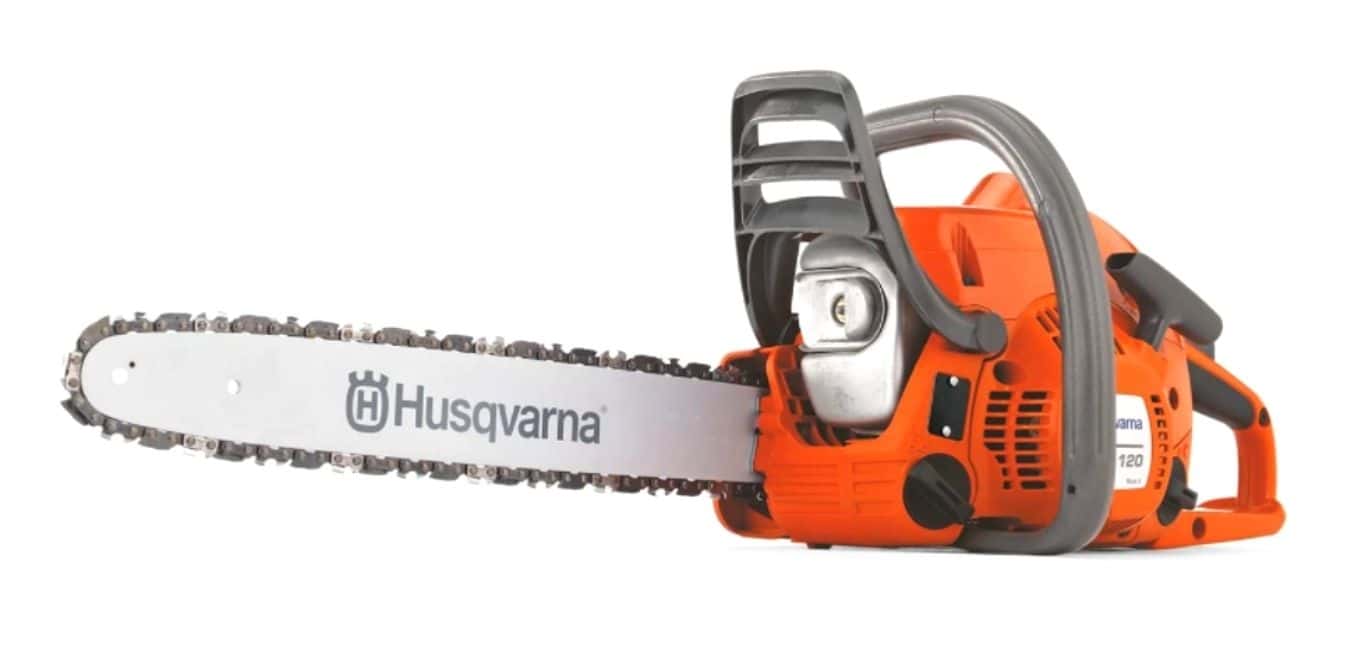 If you need to gather firewood, you can use this chainsaw without needing to carry a lot of extra fuel. Alternatively, you can use it in conjunction with your large felling saw, which may have a 60cc engine and 30-inch bar.
Poulan Pro PR5020 – Most Common Uses
Along with being a very handy chainsaw to use, it's very efficient too. Using this chainsaw, you'll definitely appreciate how good of a chainsaw it is. Here's what you can use it for.
For cutting small stuff and processing wood
For cutting logs up to 20 inches in diameter
For clearing fallen trees
For various common forest jobs around the house or the farm
Poulan Pro Vs Echo Chainsaw
Poulan Pro and Echo, both are the top popular brands for chainsaws. The major difference could be the size of their bar and the cutting efficiency they provide. Poulan Pro chainsaws have slightly lengthy bars whereas the bars of echo chainsaws are comparatively smaller.
Also, in our opinion, Poulan Pro chainsaws have sharper and faster cutting ability than the echo chainsaws. That's because the engines of Poulan Pro are more efficient and have greater power.
Poulan Vs Husqvarna
Although both the brands are owned by the same hands, there are still things to be compared between the two. Husqvarna is the most popular choice (after Stihl) for the BEST chainsaws in the world. That's because Husqvarna chainsaws have the most powerful engines and thus, the highest efficiency as well.
Whereas, Poulan mostly manufactures not-so-high-end chainsaws, which are the best choice for the homeowners who don't have to professionally deal with the woods. So, the power of Poulan might be slightly less strong than Husqvarna.
However, when it comes to the chainsaws having greater fuel capacity, Poulan Pro is surely a win. They have smaller engines, which provide more space for larger fuel tanks. Hence, lesser refills are required during continuous work.
Furthermore, Poulan Pro chainsaws are usually smaller in size and generate less noise as compared to most of the Husqvarna chainsaws when operating.
Poulan Pro PR5020 Problems
Although Poulan Pro PR5020 has two-cycle engines and does a great job when dealing with wood, there might arise some problems with it too.
Here are some common problems you may face with this chainsaw.
The chainsaw might not start quickly sometimes
The chain might get stuck
Irregular flow of the fuel inside the chainsaw during hot summer days
The spark plug might get wet-fouled and may need a replacement.
How to Start a Poulan Pro PR5020 Chainsaw
Starting a Poulan pro-PR5020 is no different from starting other chainsaws such as Husqvarna or Echo chainsaws. So, if you own any of these chainsaws, you'll know to start it.
If you don't, here's how to do it.
First of all, set the brake, turn it on and then pull the choke all the way out.
Give ten pumps on the fuel ball. After doing so, you'll now have to give it some pulls until it starts.
Usually, it'll start withing the first 2 or 3 pulls. But if it doesn't there's still nothing to worry about. Try again and it will start in a few more pulls.
After you hear sounds like it's starting, put the choke halfway in. As the chainsaw starts, let it warm up for about 30 seconds with the choke halfway out.
After warming it up for 30 seconds, push the choke all the way in. This will increase the idle speed.
Now, pull the trigger one time and that will put the idle back to normal speed.
Make sure to disengage the brake before you rev the engine. If you attempt to do so with the brake on, you'll risk damaging the clutch and the brake. Don't do that!
How Many CC is a Poulan Pro PR5020?
Poulan Pro PR5020 is a 50 CC 2-cycle gas chainsaw and weighs 17 Pounds.
What Size Chain Does a Poulan Pro PR5020 Take?
The Poulan Pro PR5020 chainsaw uses a 20-inch chain. Inside of it, it uses a 72-link chain.
Poulan Pro PR5020 – FAQs
How long will a Poulan Pro chainsaw last?
If the Poulan Pro chainsaw is being utilized for normal usage, you can expect it to last at least 10 years. However, if kept with proper care and maintenance, it can even serve you for 20 or more years. Maybe a lifetime too. As far as the working hours are concerned, you can expect it to have a 40-hour useful life. But it may be different for different models of chainsaws as well, it also greatly depends on the intensity of usage.
Who makes Poulan Pro engines?
Husqvarna is the major manufacturer brand that makes Poulan Pro engines, as well as several others including McCulloch, Jonsered, etc.
Is Poulan Pro Made in USA?
For the Poulan Pro chainsaws, there's no exact evidence for where these chainsaws are exactly manufactured. But because Poulan Pro is an extension to the Husqvarna brand, it would have the same manufacturing locations as Husqvarna such as the United States, Sweden, China, etc. Many companies of Poulan Pro are currently operating across North America with the headquarters in Charlotte, North California.
Our Verdict
Despite not being perfect for everyone and every situation, the Poulan Pro PR5020 chainsaw makes a great tool for the right user!
Getting started with it is easy; you can use it right away, and it is easy to maintain as well. Our recommendation is to definitely consider it if it's within your budget.