Higher power, performance, and durability of the chainsaw – These are the three things considered as most important by the professional loggers while choosing a chainsaw.
You simply cannot have any chainsaw choice that comes across your way. Because every chainsaw you think is suitable, might not be real.
The size and design of the chainsaw are not the only things you should be focusing on. If you're somebody whose work is related to bigger projects, you should be looking for an extremely well-built chainsaw, with huge power, comparatively low battery/gas consumption, and high performance.
This article includes information about the most popular chainsaws as well as the BEST CHAINSAW FOR LOGGING.
What's the Best Chainsaw Brand?
Stihl for sure has to be the top brand for the chainsaws. It is the best pro chainsaw and most popular chainsaw brand in the world and manufactures extremely high-quality chainsaws for heavy duties.
Other than Stihl, Husqvarna is the second one on the list of the best chainsaw brands.
DEWALT, however, is another very popular chainsaw brand. It's best if you're looking for small construction saws.
What Chainsaw Does Professional Loggers Use?
First of all, professional and experienced professionals always prefer gas-powered chainsaws over battery-powered ones. The reason is that they offer a higher level of performance, power, productivity and are more durable as well. Also, they work great even if they have to be at work for the whole day.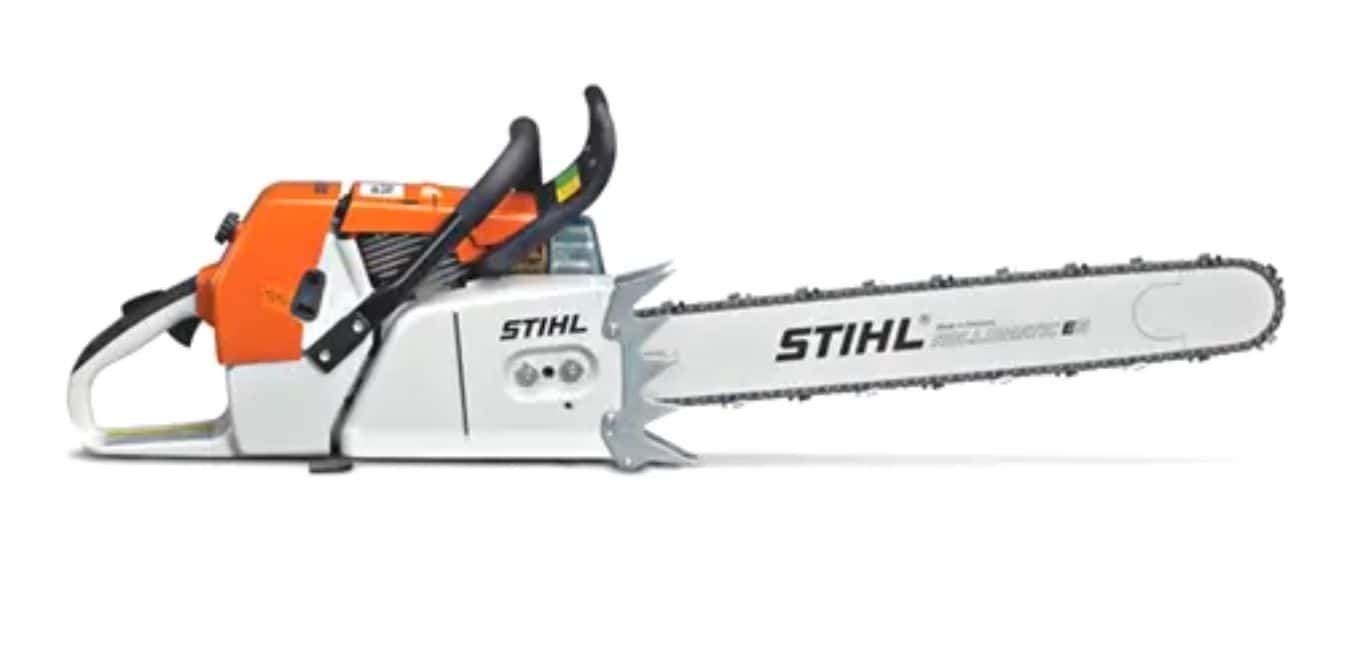 You'll see most of the professional loggers using chainsaws that are reliable for harsh conditions, have powerful engines, and are easy to clean and maintain as well.
Because Stihl and Husqvarna have just the perfect power of balance to weigh, most professional loggers trust them as their best choice for professional chainsaws.
How Does an Ideal Logger Chainsaw Look Like?
If you're a professional blogger, you'll definitely be using the chainsaw all year long. So technically, your ideal chainsaw should possess greater capabilities and features to work on tough projects.
An ideal chainsaw can't be defined by the way it looks but by the features it endures. Generally, a chainsaw that has a super-powerful engine survives the harsh conditions in the best way, and is perfectly sized to deal with huge trees would be an ideal chainsaw.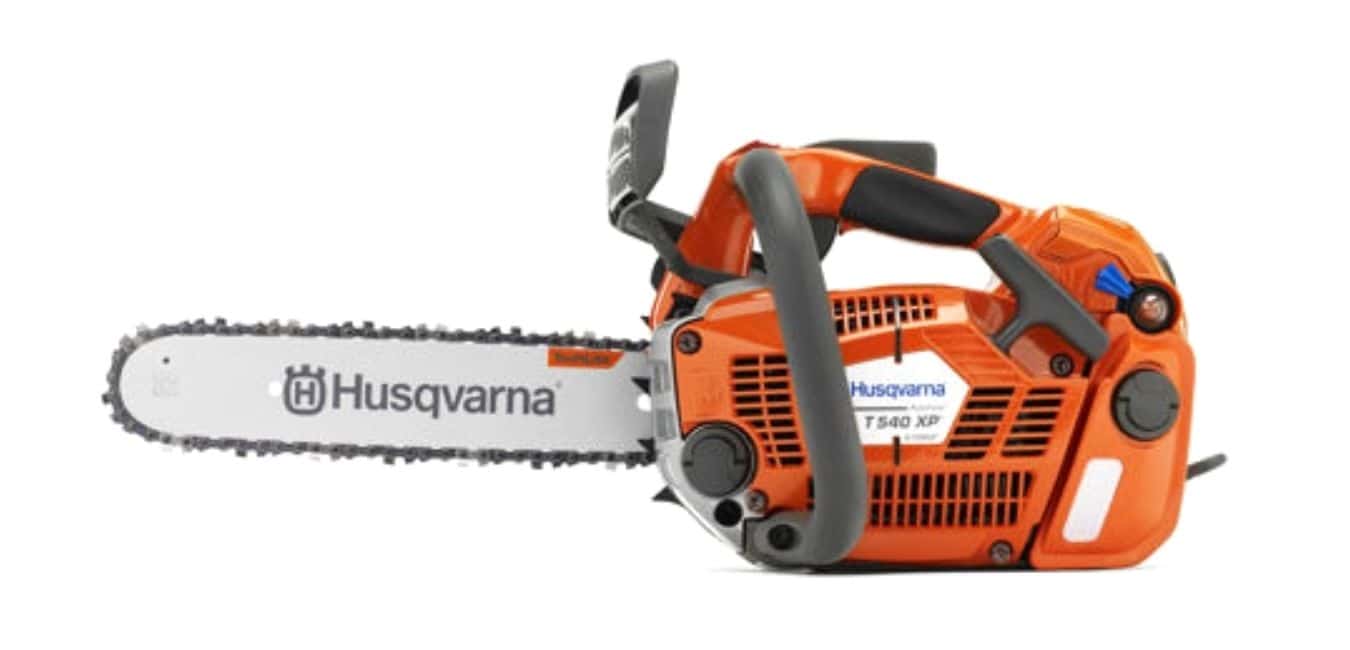 Here are the top features for what you'd call an ideal chainsaw.
A Balanced Design – A perfect weight and balance of the chainsaw are one of the most important features. The chainsaws used by professional loggers are long in length and have a narrow body, with their engine fitted in a tending position behind the bar. So, a perfectly balanced design will help you use the tool for prolonged periods.
The Top Handle – The professional chainsaws for logging are usually built with a top handle design. These saws are more compact and lighter in weight. Also, due to their handle positions, they're more comfortable to use and carry.
Furthermore, they're great for cutting tree limbs and branches and are perfect for cutting at downward angles.
Commercial Warranty – Most of the chainsaws for logging come with a commercial warranty and that's actually great. Although it's not very common to get the chainsaws with the warranty as they have to perform for several hours a day. But an ideal choice would definitely offer you that!
The very best and top-notch brands do offer commercial warranties for professional chainsaws for a year or two.
Top Handle Vs Rear Handle Chainsaw
This is what the top handle and rear handle chainsaws look like.
Top Handle Chainsaw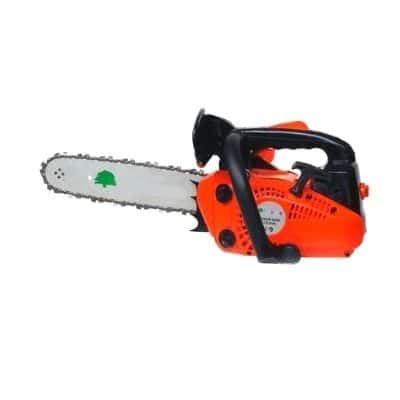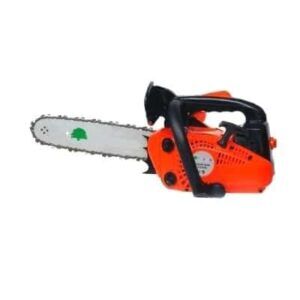 Top Handle chainsaws are basically operated from the top. Their fuel tank is located just beneath the handle and they're great for handling trees themselves.
Furthermore, they're extremely powerful so you can definitely rely on them for cutting and processing huge, unforgiving trunks. You can operate them using one or both hands, at your convenience.
Due to the compact design, top handle chainsaws are highly maneuverable. They are more streamlined and hence much more convenient to handle and carry as compared to the rear handle chainsaws.
But they also have higher energy consumption, greater expertise and are only suitable for professional applications.
Rear Handle Chainsaw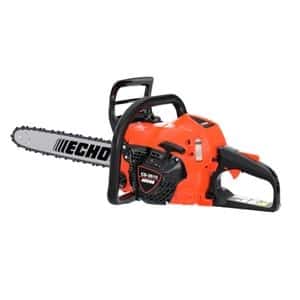 For the rear handle chainsaws, they're operated from behind. Although they provide a great balance but require the use of both hands. You can never risk handling them single-handedly. Also, they're known to have amazing controls and greatly reduce the chances of a kickback.
They're pretty much easy and simple to operate and are highly recommended for light to moderate everyday use.
But you can only use the rear handle chainsaws for on-ground tasks. Also, they could be tiring because you'll have to make use of both of your hands.
Choosing Between Stihl and Husqvarna
According to our experience, both are amazing! But choosing between the two totally depends on your personal preferences as a logger.
The users of Husqvarna claim that these chainsaws allow faster cutting through any type of tree. While the users of Stihl claim that they smoothly cut through even the toughest woods with the low-end torque.
So, basically, both brands are the most popular ones and manufacture the best chainsaws in the world. What you need would depend on your type of work and preference.
We recommend you test out both brands before you make a purchase if you're to choose between Stihl and Husqvarna.
What Chainsaw Do Professional Loggers Use – FAQs
What size chainsaw do professional loggers use?
The chainsaws used by professional loggers are at a minimum, 2 inches longer than the wood they cut. For regular workloads, they require 18 to 24 inches bar length while for heavy workloads, 30 to 36 inches bar length works best.
What kind of chainsaws do lumberjacks use?
For the brand, most of the professional lumberjacks use Stihl and Husqvarna saws. They're the best and most powerful chainsaws for the professional cutting and processing of trees. For the engine size, lumberjacks and loggers prefer 40 to 80 CC.
What is the number one selling chainsaw?
Stihl is the number one selling chainsaw worldwide. Their chainsaws are known for excellent reliability and handling of huge, massive projects. Stihl 500i is the most popular model by the brand.
Conclusion
For different professionals, their choice of 'an ideal chainsaw' might differ according to their type of job and personal preference. But what matters is that chainsaws must be reliable, high performing, fast and safe to use.
We hope our article would have been helpful for our readers.