Greenworks is a well-known name and won't disappoint in any way! It's been one of our favorite chainsaw brands and by reading this article, you'll know why.
Greenworks 60V is a better and more advanced version of the 40V chainsaw and comes with more advanced features. This has been on our try list for quite a long and we finally had it in use for the past couple of months. The boosted performance in 60V is what makes it outstanding among its competitors.
If you're wondering what type of use it can serve, it's a homeowner saw you can say, which means it can carry out light to normal duty tasks. Its 16-inch-long bar and chain are capable of handling all kinds of tasks around the yard, but it cannot take up heavy-duty tasks.
A few reasons make this saw a good choice for occasional use, including the fact that it requires little maintenance, is quieter, is relatively inexpensive, and is cordless.
Cordless chainsaws offer many benefits to homeowners. The majority of homeowners do not take care of their small gas engines, which eventually results in trouble starting the motor and expensive repairs. These hassles are completely eliminated with cordless chainsaws powered by batteries.
Our article contains our complete review and our experience with this Greenworks 60V chainsaw. Continue reading to know about it in detail.
Is Greenworks 60V Worth Buying in 2023?
Although there's an even more advanced version of Greenworks 60V on the market which is the Greenworks 80V, 60V is still a great option for anybody looking for a powerful yet affordable chainsaw to carry out their cutting tasks around the house.
In our opinion, it's definitely worth buying. Here's why. Its bar and chain have a smooth interface which facilitates convenient cutting. While cutting, you'll notice that it makes sharp and clean cuts and doesn't get stuck at all. Also, you can use it to cut a bit larger tree as well. The chainsaw won't take up much of the battery and will get the job done as well!
Let's move further and know more about this saw.
Reviewing Greenworks 60V!
The very first thing I was concerned about while using the Greenworks 60V for the first time was its performance and running time. With the previous 40V version, we've been quite happy with the performance and our hopes were high. And the good part is, this 60V chainsaw didn't disappoint in any way. Here's what we've observed.
Runtime
We couldn't keep an exact estimate for how many cuts it made but we worked for about one to two hours with its 5.0 Ah battery and the chainsaw performed extremely well. You can cut wood very easily, without your chainsaw getting stuck or slow in its performance.
The battery that comes with the chainsaw is the 2.5 Ah battery which is suitable for lighter tasks such as trimming but because we needed it for proper cutting, we switched to a 5 Ah battery which worked really well in cutting wood into smaller sections.
High Power, High Performance!
I think electric cordless chainsaws are always better in terms of power and performance. Compared to the 42 cc gas chainsaws, this saw has 20% more torque and that's why it has enhanced power in providing smooth and sharp cuts. Compared to the older versions of this model, the 60V chainsaw is faster in cutting, stronger in terms of power, has advanced functionalities and features, and has an upgraded brushless motor. All these factors make this saw highly powerful.
SPECIFICATIONS
| | |
| --- | --- |
| Model | Greenworks Pro CS60L212 (kit) |
| Power Source | Battery powered |
| Weight with Battery | 12.5 pounds |
| Kitted Battery | 2.5Ah |
| Nominal Battery Watt Hours | 108 |
| Chain | 3/8-inch pitch, 0.050 gauge |
| Bar Length | 16 inches |
| Warranty | 4 years limited |
TECHNICAL FEATURES OF GREENWORKS 60V
Here are some of the great features of this saw and we couldn't resist sharing them with you.
Lightweight Design

Easy Startup and Usage

Easy to Handle Saw

Standard Tooth Chain

Brushless Motor

Ergonomics

Bar and Chain Security

Transparent Oil Container

Chain Tensioning

Busking Spikes

Chain Brake
Lightweight Design
The very first thing most users prefer is the light weight of the saw if they intend to buy it for light to everyday duty tasks. The Greenworks 60V chainsaw weighs only 10 pounds (without the battery) which makes it pretty much light in weight. If you install the battery, it will weigh around 12 pounds.
Due to its lightweight design, the user experiences less tiredness and fatigue and can work for long hours. Also, you can carry the saw easily with you wherever you want because firstly, it is light in weight and secondly, it is cordless.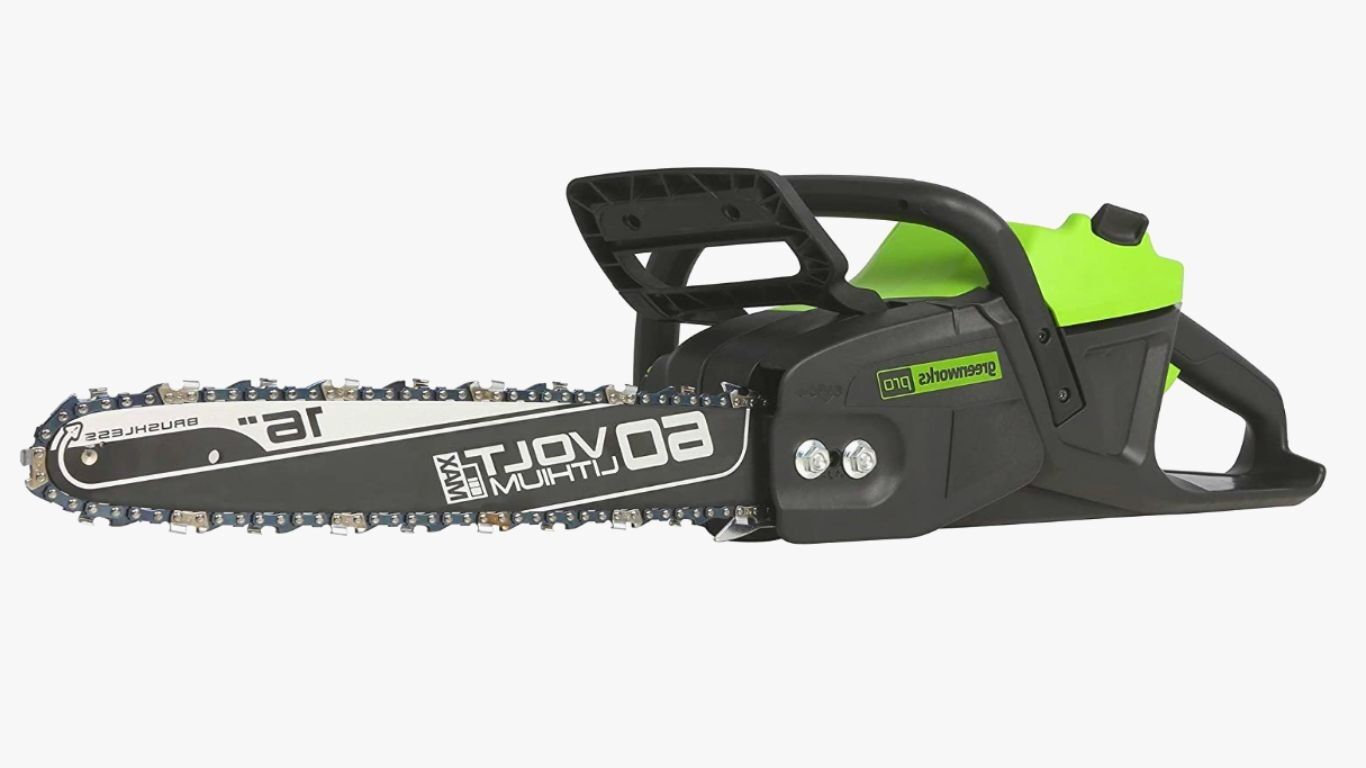 Easy Startup and Usage
An easy start-up is the biggest motivation when you're working with a chainsaw. We were surprised by the ease of use of the saw's controls as there's no complicated procedure involved. All you have to do is put in the battery, engage the chain brake at the back of the saw, then engage the safety catch and begin cutting by pulling the trigger.
Easy to Handle Saw
Because Greenworks 60V is easy to handle, it is easy to work with. When we talk about handling a saw, it's mostly related to the handles because they play a major role in providing a good and comfortable grip; hence, working becomes easier.
Greenworks 60V has a padded metal handle which is a treat for both your hands. It offers you a good tight grip that doesn't let the chainsaw move and the results are deep, clean, and straight cuts. Furthermore, you can work for hours and not get tired because you've been comfortable holding the chainsaw.
Standard Tooth Chain
Similar to the previous model, Greenworks' chainsaw features a beefier 0.050 inches chain instead of the thinner 0.043 inches chain commonly found on cordless chainsaws. Instead of a skip tooth chain, they pack it with a standard tooth chain. However, the bar is still 16 inches.
Oregon 91 skip-tooth chain was used in the previous chainsaw. Skip-tooth chains are cheaper and require less battery power, but they cut slower than traditional chains. Due to its half-toothed nature, the behavior is not surprising. You often see them in models using long bars because they do a good job of removing debris from the chain path.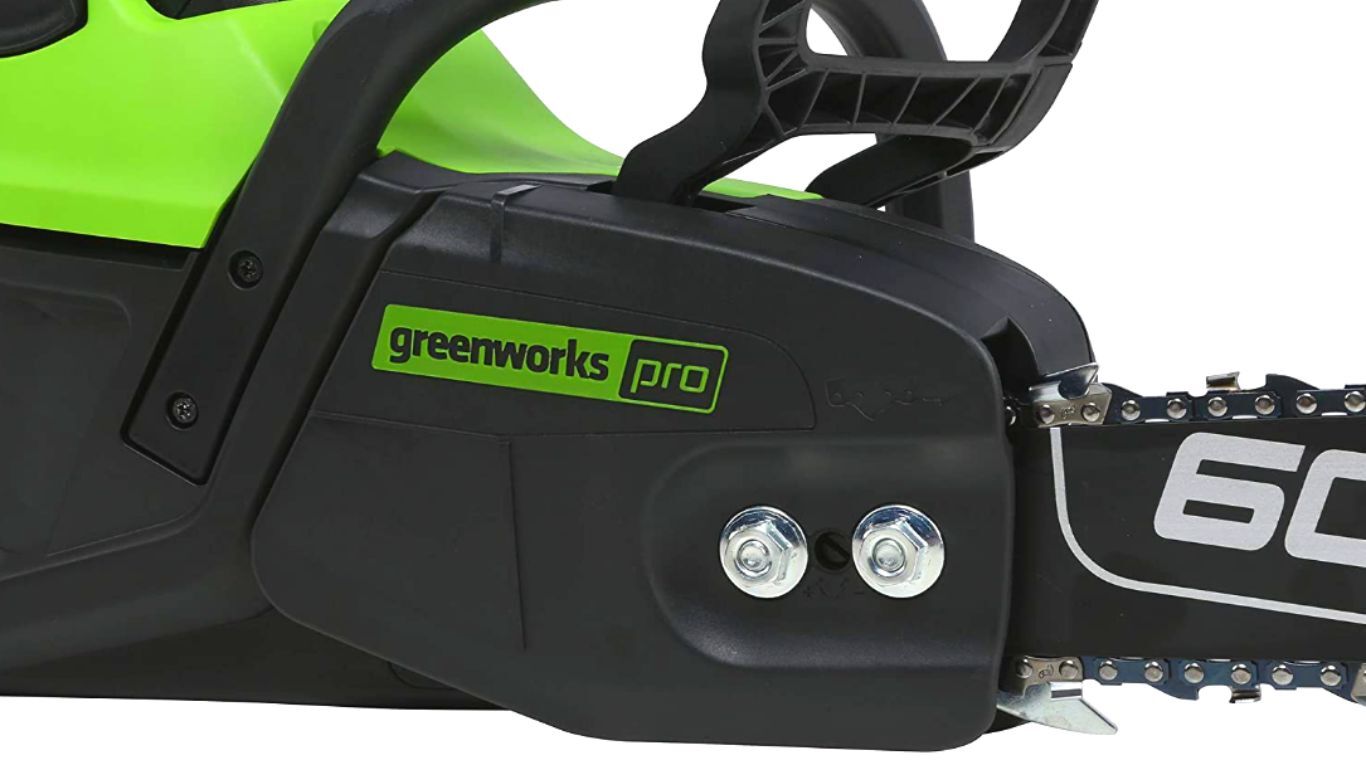 Brushless Motor
The best thing about most of chainsaws is that they have brushless motors instead of the traditional ones. An electric chainsaw with a brushless motor performs exceptionally well. It penetrates deeper into thick wood logs and trunks than ever before due to its higher torque and ability to penetrate deeper without any hassle.
The brushless electric motor mounted on the vehicle is also as powerful as a full-fledged 42cc gas engine. Therefore, the performance is excellent. You are able to cut or slice rough wood easily because of the exceptional power of Greenworks Pro 60v.
Ergonomics
A 60V Greenworks 16-inch chainsaw had a good balance. This tool can use a 2.5Ah battery, but a 4.0Ah or 5.0Ah battery isn't too heavy and does a better job. Larger battery packs—which mostly take up the same space—simply shift the weight of the saw backward.
We had some internal arguments over the size of the handle on this Greenworks chainsaw. And we have concluded that the thicker the handle, the better for people with large hands.
Bucking Spikes
In order to ensure a secure grip on the wood during vertical cuts, the updated Greenworks 60V chainsaw features steel bucking spikes. They serve the purpose of providing maximum safety. Utilizing a bucking grip, you can get downward leverage with the help of these spikes, by slightly rocking the saw forward.
The bucking spikes on some of these saws are small and plastic. But steel spikes are more durable.
Bar and Chain Security
A chain made of ultra-sharp stainless steel cuts deep with the bar's 16-inch length. A chain oiler keeps the chain from wearing out. A sufficient amount of oil is provided to the chain at all times in order to ensure its rotation. In contrast, the chain has sharp spikes as well. Wood materials that are rough and tough can be cut down with these spikes in one go.
For the bar, dual studs hold the bar in place, and the nuts need to be tightened and loosened with a wrench. The tool-free adjustment feature is found on some saws in this class, but the advantage has not been widely embraced. Although there are some cons associated with this design, some Pros believe it maintains a more secure connection.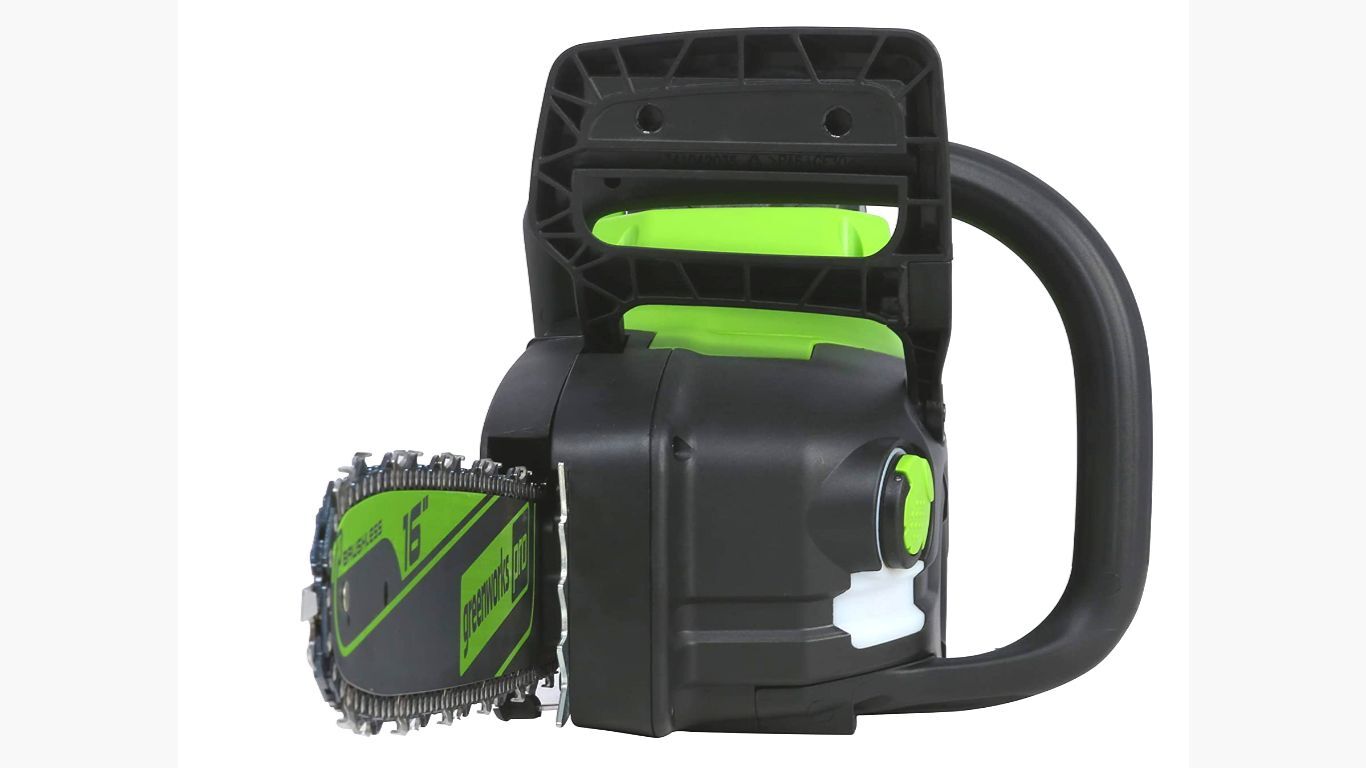 Transparent Oil Container
This particular feature of Greenworks 60V is our personal favorite because it lets you keep track of the oil level in the chainsaw. A transparent oil container is included with this saw. In other words, you don't have to constantly open its lid to see the oil level. You can just see it from the outside.
Checking the oil level repeatedly becomes difficult without the transparent oil window. Therefore, the oil window is made completely transparent to avoid any unnecessary incidents.
Chain Tensioning
The 60V PRO saw from Greenworks uses a traditional side-mounted chain tensioning system. A saw wrench or screwdriver can be used to adjust the chain tension as with a traditional gas saw, which I find to be an excellent decision.
Chain Brake
This upgraded chain brake prevents the chainsaw from going out of control, which is not very common in many of the other electric-powered chainsaws. The brake can be pulled to reverse the chain so it will stop immediately.
Greenworks 60V Chainsaw Review – FAQs
Is Greenworks a good company?
Of course, it is. For homeowners looking for a battery-powered solution for lawn and yard care, Greenworks yard tools are an excellent choice. Over a decade of experience in providing dependable performance has made the company a leader in the field. The company's customer support has been the subject of multiple complaints.
How long does Greenworks 60v battery last?
With a full charge, you can expect a run-time of approximately 40 minutes.
Is Greenworks discontinuing 60V?
No. there is no such plan as Greenworks discontinuing 60V. The plan is still to continue the chainsaw and make it even better.
Which is better Greenworks or ego chainsaw?
In comparison, the slightly more expensive Greenworks chainsaws with their 2 Ah battery and 80V platform provide 144 Watt hours, instead of 280 Watt hours with the Ego CS1800. However, in terms of energy efficiency and battery performance, the Ego outperforms most other models.
Is Greenworks made by Stihl?
Yes. Greenworks, a leading manufacturer of corded and cordless outdoor power tools, has been acquired by the Stihl Group.
Our Verdict
In a nutshell, Greenworks 60V is capable of chopping thick logs and falling trees and delivers exceptional performance. Due to this, you will not experience any fatigue or exhaustion when handling it. In comparison to Greenworks Pro 80v and Greenworks Pro 40v, this tool combines both features.
So, those are some of the reasons you should invest your hard-earned money in getting a Greenworks 60v chainsaw in 2023!